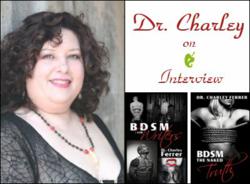 Atlanta, GA (PRWEB) September 15, 2011
Online retailer EdenFantasys continues its innovative community interview series this fall with special guest, clinical sexologist and author, Dr. Charley Ferrer. The interview is a a unique feature of the EdenFantasys site, giving visitors a chance to ask questions of notable figures in culture and sexuality.
EdenFantasys is thrilled to host Dr. Charley Ferrer, the only Latina Doctor of Human Sexuality in the United States and a frequent guest in the media, including Fox News Latino. She specializes in BDSM and has made it her mission to help patients, and let them explore their sexuality rather than judge their desires. Dr. Ferrer is also the author of eight books, most recently, BDSM for Writers and BDSM: The Naked Truth.
Dr. Ferrer will be available for questions on EdenFantasys.com till September 20. If you do not have an EdenFantasys account, it's free to create one and participate in the interview. All participants who ask a question will also have the chance to win one of three prizes.
EdenFantasys Community Interviews give visitors an opportunity to ask one-on-one questions of many fascinating figures. Past guests have included key figures in the adult industry including Veronica Monet, Nina Hartley, Buck Angel, amongst others.