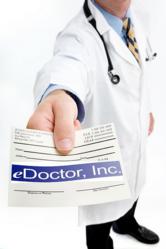 Prescribing on the go is a necessity in a wireless world.
Rockville, MD (PRWEB) September 16, 2011
eDoctor (TM), a premier provider of Health IT solutions, announced the debut of their new mobile electronic prescribing iPad application, available on iTunes and at the Apple store. The application allows doctors and staff to e-prescribe on the go from a mobile device such as an iPad, freeing doctors and staff from relying on desktop computers. The application is available for certified healthcare providers who already have an eDoctor (TM) account.
"Prescribing on the go is a necessity in a wireless world," said Dr. Ingrid Chung, an eDoctor, Inc. customer who recently downloaded the iPad application for her practice. "This also benefits doctors who work in the field and don't have immediate access to a PC."
eDoctor's iPad application offers a Surescripts-certified, MIPPA-compliant electronic prescribing solution noted for its flexibility, ease of use, and unlimited technical support. Available in both free and paid accounts, eDoctor, Inc.'s solution delivers unlimited use of the standalone e-prescribing system that qualifies medical practices for MIPPA incentives. Powered by easily upgradable NewCrop software, the iPad application provides healthcare professionals with numerous features designed to enhance safety and efficiency.
Features include managed care formularies and patient drug history via Surescripts Medication History, as well as a customizable favorite medication and pharmacy list. Drug-to-drug, drug-to-allergy, drug-to-condition, drug-to-age, drug-to-gender, and dose checking are also provided. eDoctor (TM)'s e-prescribing solution is mail-order supported and includes unlimited access to technical support and online interactive training.
eDoctor (TM) is a Heath IT Systems Integration firm headquartered in Rockville, MD, providing electronic prescribing solutions, an online patient scheduling system, and seamless patient data transfer. eDoctor (TM) currently services thousands of healthcare providers across 36 states in a range of medical fields.
###