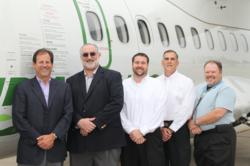 Joe, Scott, Robert and Stan are outstanding leaders who epitomize the kind of people who are making AvCraft a success.
Myrtle Beach, South Carolina (PRWEB) September 19, 2011
Mike Hill, President of ATR, Dash 8 and Dornier MRO specialist AvCraft Technical Services, today announced four new appointments to the Myrtle Beach, South Carolina-based regional aircraft MRO provider's technical management team. Between them, they bring almost 100 years of aircraft maintenance experience.
Mr. Joe Lipari is promoted to Director, Operations with the direct responsibility for overseeing AvCraft's heavy maintenance, line maintenance, aircraft painting and back shop activities. Joe has 30 years of experience in aircraft management, line maintenance, aircraft structural repair, maintenance planning, maintenance control and quality assurance. He has held key positions with TWA, People Express and Air South and is the founding President of Tritec Aircraft Services, a Dash 8 repair station located in Phoenix, Arizona.
Mr. Scott Baun is appointed as Director, Quality Assurance and Program Management. Scott is a former training manager, aircraft lead and technician with AvCraft, Atlantic Coast Airlines and Reliance Aerotech. His specialized training includes Safety Management Systems, Human Factors and Maintenance Release Authorities.
Mr. Robert Vaughn is promoted to Chief Inspector. Robert has 24 years of industry experience. He has been working with AvCraft and its predecessor companies in Myrtle Beach since 1999 as a technician, inspector and structures lead. He is a former member of the United States Marine Corps and a graduate of Embry-Riddle Aeronautics University and Spartan School of Aeronautics.
Mr. Stan Gregory is promoted to Engineering Manager. With 28 years of experience, Stan has a strong background in structures construction and repair at AvCraft, Gulfstream Aerospace, Flight International and other companies. His background includes stress and design engineering; flight test; advanced composite design and development; fabrication and welding; Catia V5 and Enovia; and Lean Six Sigma.
"We are continuing to strengthen our ATR, Dash 8 and Dornier maintenance management team as our capabilities grow," said Mr. Hill. "Joe, Scott, Robert and Stan are outstanding leaders who epitomize the kind of people who are making AvCraft a success."
About AvCraft Technical Services
AvCraft provides airframe heavy maintenance, line maintenance, paint and modification services on ATR 42 and 72, Dash 8, Dornier 328 and other commercial aircraft for airlines, leasing companies and corporate operators from the US, Canada, the Caribbean, Latin America and Europe.
With a highly motivated, well trained work force that includes 120 maintenance technicians and support staff, the company operates from a 130,000 sq ft facility at Myrtle Beach International Airport. This facility includes hangars, back shops and a double bay paint shop adjacent to a 400,000 sq ft aircraft storage area.
AvCraft has partnered with affiliate company Indaer to provide engineering, maintenance planning, technical services and field support to operators and leasing companies around the globe. In 2010 AvCraft and Indaer supported 46 customers from 14 countries in North and South America, Europe and Asia.
More information is available at http://www.avcraft.com.
###