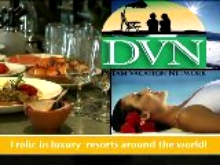 Dream Vacation Network - www.DreamVacationNetwork.com
Las Vegas, Nevada (PRWEB) September 16, 2011
Vacation Business Services, based in Ls Vegas Nevada is excited to announce the successful launch and start-up of the Dream Vacation Network (DVN), a technology platform designed for timeshare owners to maximize the use and benefit of what they already own for travel services, products, rentals and more (eg: http://www.DreamVacationNetwork.com). The response from timeshare owners that have had an opportunity to view the Dream Vacation Network platform or become DVN members has been overwhelmingly positive with the reviews and testimonials to match!
One couple that had an opportunity to preview Dream Vacation Network stated that they were "challenged by the DVN presenter to find a better deal anywhere on the web." They took the challenge and after comparing same dates, resort and unit type to Kayak, Priceline, Orbitz, Expedia, Hotels.com and more found that Dream Vacation Network saved anywhere from 5%-60% over public platforms. "DVN Prices couldn't be beat."
Another couple, long time owners of 5 weeks at a well known branded timeshare decided to become members of Dream Vacation Network because "we could never figure out how to get the most out of our timeshares because we owned different types [week and point program] sic in different locations and each one had its own rules and fees. We originally bought timeshare for quality and savings but feel like we have to be our own travel agents. DVN simplifies all this by having a common system for all timeshares. I can deposit all my timeshare for credits and use them however I want on anything offered on the site. My vacation planning just got a lot easier."
Dream Vacation Network was developed in response to the needs of timeshare consumers. It meets their needs simply and effectively without a lot of rules and restrictions that make planning vacations a chore for timeshare owners. Consumers want flexibility, transparency, value and ease of use. http://www.DreamVacationNetwork.com delivers these objectives and more:
+ FLEXIBILITY
· Weekly or nightly stays
· Global network of resorts, luxury accommodations and hotels
· Cruises
· Car Rentals
· Prepackaged and customizable vacation packages
· Travel services and products
· Rental Platform for owners
· Exchange
· Book travel with credits or cash
+ TRANSPARENCY
· Know how much your timeshare is worth in actual credits before converting.
· View prices on the site in credits or cash.
· No hidden fees or restrictive rules.
· Timeshare credits and Reward Credits have the same value.
+ VALUE
· 5%-60% savings on travel
· Earn loyalty credits for every dollar spent with DVN that can be used in turn to book additional travel
· Earn loyalty credits for every 2 dollars spent on flights booked on other sites
· Free exchange
· Travel searches and preferences that notify you when the best deal meets your specific needs.
· No listing fee or commissions with the rental program for up to 15 listings per year.
Ease of Use
· Browse travel options just like other internet travel sights you prefer with a simple, esthetically pleasing interface.
· If more personal service is desired schedule complementary concierge calls.
· Download iPhone or Android applications to notify you when the best deals are announced or use the Windows desktop widget.
· Every page of http://www.DreamVacationNetwork.com has a specific tutorial guide that will verbally describe the benefits and services available.
· Get pricing assistance when listing your timeshare for rent to maximize success.
The above points only cover a portion of the benefits available to owners of timeshare through the Dream Vacation Network. Timeshare owner reaction has been in line with what was projected when the program was originally conceptualized and developed. Since it was built with the end user's needs first, Vacation Business Services expected a positive reaction. It should be mentioned that DVN is an evolving platform and will continue to add benefits and services in response to the present demands of members while anticipating the demands of the future. If you are an owner of timeshare and want to get the most from your ownership, take a look at Dream Vacation Network. Vacation Business Services is confident you will be impressed and hopes to welcome you as their newest DVN Member.
Learn more about Dream Vacation Network by watching these videos:
http://youtu.be/17fR_O4-3Z0
http://www.dailymotion.com/video/xkar17_dream-vacation-network-reviews-las-vegas-vacation-club-time-shares-online-information_travel
http://www.metacafe.com/watch/6874099/dream_vacation_network_reviews_las_vegas_online_vacation_club/
###