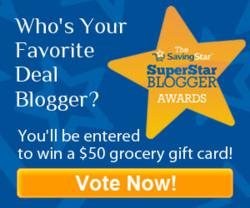 We're excited to honor the bloggers who help get the word out about not just SavingStar, but all the different ways shoppers can save money. - David Rochon, CEO, SavingStar
Waltham, MA (PRWEB) September 16, 2011
SavingStar, the only national paperless grocery coupons service, today launched the "SavingStar SuperStar Blogger" contest in celebration of National Coupon Month and the "gurus" and deal bloggers who help consumers save money every day.
SavingStar is celebrating the seismic shift in how consumers "coupon," reflecting a more tech-savvy and eco-friendly lifestyle. From checking their daily deal emails every morning, to reading their favorite coupon blogs, to using grocery eCoupons linked to store loyalty cards, shoppers are taking advantage of technology to increase their savings.
Beginning today, fans can nominate their favorite coupon, savings or deal blogger by submitting the name of the blog on SavingStar's award nomination page, http://savingstar.com/superstar. People who submit a nomination will be entered to win one of five $50 grocery store gift cards. On October 1, SavingStar will announce the Top 10 blog finalists based on total nominations for each site. Fans can then vote for their favorite from the Top 10, where all voters will be entered to win one $150 grocery gift card. The winning blog will be announced on October 15 and will receive a $500 grocery store gift card and a $100 gift card to give away on their blog. The Top 10 finalists will also receive a "Top 10 SavingStar SuperStar" badge to place on their web site, denoting their blog's status as a coupon or deal resource that helps consumers save money.
"Our vision for SavingStar is to help families save money on everyday purchases with a convenient service offering paperless grocery coupons that literally takes almost no time to use, either online or on smartphones," said David Rochon, CEO of SavingStar. "We're excited to honor the bloggers who help get the word out about not just SavingStar, but all the different ways shoppers can save money."
Bloggers can find out more about how to enter their blog at: http://savingstar.com/blog/savingstar-superstar-blogger-awards/
History of Coupons
Since the first handwritten Coca-Cola coupon was introduced in 1886, consumers have clipped and saved coupons before going to the grocery store. Coupon use rose dramatically during the Great Depression and by 1957, the first-ever clearing house devoted entirely to the redemption of coupons was created. In 1972, George Valassis introduced the first Free Standing Insert (FSI) in newspapers. In the late 1990's consumers were able to print coupons online for the first time. Coupon use has continued to grow since the start of the "Great Recession" and in 2010 alone shoppers saved $3.7 Billion using coupons.
The Benefit of Digital Coupons
Though shoppers have saved money, traditional paper couponing comes with many inconveniences including time spent clipping and printing coupons, having to remember to bring your coupons to the store, and grocery coupons not being readily available on smartphones. Coupons have also cost the environment by destroying billions of trees. Each month, one million trees, which could fill nearly two Central Parks, are used to print Sunday's Free Standing Inserts (FSIs). Even most internet coupons still require printing.
With the launch of SavingStar in April 2011, shoppers finally have access to a nationwide fully digital coupon service to save money on top brands at more than 24,000 grocery and drug stores without the hassle of printing or clipping paper coupons. The service is available online at http://www.savingstar.com and also on iPhone and Android apps. More than 100 chains have partnered with SavingStar including Kroger, Albertsons, Winn-Dixie, Hy-Vee, CVS, Stop & Shop and many more. Already, over 700,000 users have joined SavingStar and selected 7 million eCoupons to save on dozens of brands including Heinz, L'Oreal, Dannon, Huggies, Bayer and more.
SavingStar's unique eCoupon service is the only one that allows consumers to choose how they get their savings, with the option to deposit their savings into a bank or PayPal account, an Amazon gift card, or a donation to a charity.
About SavingStar
SavingStar is the first and only national, fully digital, grocery coupon service, available for free at savingstar.com and on iPhone® and Android® mobile apps. The company enables consumers to choose where they shop and how they save. Providing exclusive eCoupons redeemable at over 24,000 stores, SavingStar's eCoupons are linked to customers' grocery and drugstore loyalty cards and offer a more convenient and eco-friendly way to save on groceries than paper coupons. SavingStar automatically adds the value of each eCoupon redeemed into the user's SavingStar account, enabling the consumer to pick their payout from cash back to gift cards to charity donations. SavingStar also powers white-labeled grocery coupon services, including Upromise and Cartera Commerce. SavingStar is backed by Flybridge Capital Partners, First Round Capital, and other investors. The company is based in Waltham, MA. For B-roll footage, please visit https://savingstar.com/press
###