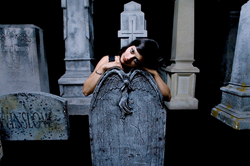 "When you decorate for Halloween, think of your props as creating the spooky world that you want your guests to live in. The right Halloween props really make the atmosphere come alive," said BJ Winslow, owner and lead propmaker of Dapper Cadaver.
Los Angeles, CA (PRWEB) September 20, 2011
On October 1st, graveyards will pop-up on lawns and expertly carved pumpkins will light up porches across America. Want to out-do the monsters down the block this Halloween? Owner and lead propmaker BJ Winslow of Dapper Cadaver has 13 ideas on how to kick your Halloween decor up a notch with some killer Halloween props.
"Hollywood set decorators and propmasters know how the right props create the right mood for a film," said Winslow. "When you decorate for Halloween, think of your props as creating the spooky world that you want your guests to live in. The right Halloween props really make the atmosphere come alive."
Year round, Dapper Cadaver is one of Hollywood's top sources for death-related and scientific props. Set decorators from hit TV shows like True Blood and House shop for skeletons, body parts and corpses. When the Halloween season hits, savvy Halloween party planners and home haunters go to Dapper Cadaver to buy and rent Hollywood-grade props.
"I keep a section of my shop stacked from ceiling to floor with rubber corpses, so when productions like Breaking Bad or Supernatural need a prop victim they can get one within a day. For Halloween everyone wants the good gore—party decorators, haunted houses and haunters. When the shop is empty because almost everything is sold or rented out, that's the only time I find my shop spooky," said Winslow.
1. Theme: Crime scene. Killer prop: Plastic blood pools. Guide your guests through a bloody crime scene without leaving fake blood tracks through the rest of your house. Bloody shows like Dexter use shiny red plastic blood pools to get the look of wet blood without the mess.
2. Theme: Scary circus. Killer prop: Sideshow gaffs. A truly scary circus needs more than scary clowns. Add a haunted sideshow area with such classics as old-timey fee gee mermaids (a monkey skull with a fish tail), two-headed taxidermy, giant skeletons and dwarf skeletons.
3. Theme: Dungeon. Killer prop: Electric chair. Put an electric chair front-and-center. Ask a photographer friend to take photos of guests to remember their electrifying evening by. It also makes a freaky throne for the psycho-in-chief, dressed in a straightjacket of course.
4. Theme: Morgue. Killer prop: Autopsy table with body. A split open body on a cold white table right in front of you will chill even the most seasoned crime show fan to the bone. Get creative with your autopsy results. Bake organ-shaped cakes and serve them from inside the autopsy body.
5. Theme: Vampire. Killer prop: Safety wooden stakes. Divide your blood-sucking guests into Team Edward, Team Bill, Team Eric and Team Dracula. Select vampire hunters and give them rubber wooden stakes. Let the hunt begin!
6. Theme: Pirate. Killer prop: Gallows and gibbets. For a scary pirate party, feature the things that scared actual pirates. Hang skeletons dressed as pirates from gallows or inside gibbets to remind your guests that there are worse fates than walking the plank.
7. Theme: Butcher shop. Killer prop: Cannibal meat. Hang fake heads and body parts on meat hooks among skinned goats or bloody sides of beef. Halloween prop manufacturer Gore Galore has some great body parts on plastic meat trays that are perfect for a cannibal deli setup.
8. Theme: Extreme gore. Killer prop: Realistic corpse. If you have some over-the-top bloody Halloween corpses, add one extremely realistic corpse to the bunch and wait until a concerned guest approaches you to let you know someone may have died of fright.
9. Theme: Mad science. Killer prop: Apothecary specimen jars. Preserved frogs and squids displayed in jars are key props for a mad scientist lab. Apothecary jars in particular lend a Victorian feel that would be perfect for a steampunk Frankenstein fantasy.
10. Theme: Occult. Killer prop: Ram skull and horns. Satanic and occult sets invariably have a reference to Baphomet, the symbol of the satanic goat. Having a symbol of demonic or pagan ritual in skull form is pretty wicked.
11. Theme: Hell. Killer prop: Burnt corpses. For a fire-and-brimstone effect, add a few burnt corpses with low-lying fog machines to your decor. Use the Charred Corpse scent additive from Froggy's Fog in your fog liquid to make it clear the corpses are still smoking from their smiting.
12. Theme: Cemetery. Killer prop: Monuments. A lot of Halloween graveyards have tombstones of roughly the same size. Mix it up to look like an authentic cemetery. Give guests a place to gather with a few well-placed monuments, angels or pillars towards the center.
13. Theme: Dinosaur park. Killer prop: Dinosaur skulls. To really wow the neighborhood, rent replica dinosaur skulls and bones. For some unforgettable fun, bury some dinosaur bones in sand for the kids to find dinosaurs in their own backyard.
About Dapper Cadaver
Dapper Cadaver is a death-related prop house and fabrication shop located in Sun Valley, Calif. It provides props to thousands of film and TV productions, including Vampire Diaries, CSI: NY, Pirates of the Caribbean 4 and Transformers 3. Dapper Cadaver does stage and video props for such musicians as Ke$ha, Alice Cooper, Kanye West and Marilyn Manson. Every year, it provides props to professional haunted houses and Halloween parties across the country. Clients include Six Flags Fright Fest, Queen Mary's Shipwreck and the Playboy Mansion. Dapper Cadaver has also served as a setting for a number of shows including Parental Control and The Arrangement. Please visit us online at http://www.dappercadaver.com.
About BJ Winslow
BJ Winslow founded Dapper Cadaver in 2006 with his wife Eileen. He has served as an expert on horror props on BBC Radio, FEARnet and Storage Hunters. BJ Winslow is available for interview or to serve as an expert on Halloween props and decoration.
# # #