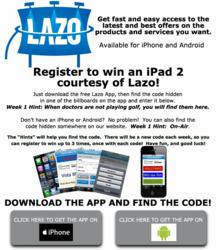 This offer, demonstrates to consumers and advertisers the powerful impact LAZO can have
Boca Raton, Florida (PRWEB) September 19, 2011
LAZO a new, interactive smartphone application that uses proprietary technology to allow consumers to interact with Outdoor Advertising billboards. With this application, consumers can access pertinent information about the product or service featured in Outdoor Advertising, and participate in "deals" that are offered throughout the day by advertisers. The launch is supported by a county wide advertising campaign which includes extensive targeted online advertising and sponsorship of the Traffic reports on all the Palm Beach Clear Channel Radio Stations WRLX 92.1FM, WZZR 94.3 FM, WLDI 95.5FM, WKGR 98.7FM,WOLL 105.5 FM, WBZT 1230AM and WJNO 1290AM.
LAZO's latest offer: LAZO will be giving away free iPads to five lucky winners. The contest will run from 9/19/11-10/9/11.
How do I register to win my free iPad?

The iPad contest will run on Clear Channel Palm Beach Stations:WZZR 94.3 FM, WLDI 95.5FM, WKGR 98.7FM,WOLL 105.5 FM, and WJNO 1290AM.
Listen for the clues on the Clear Channel Radio Stations to find the " registration key" or code hidden under a billboard on the LAZO App
Download and go to the LAZO app and find the "Registration Key" under the billboard.
Register to win at http://www.wzzr.com/cc-common/contests/index.html?id=153259, http://www.lazosystem.com or on our FaceBook page
For more information and rules click here
"This offer, demonstrates to consumers and advertisers the powerful impact LAZO can have". Commented, Gonzalo Labarca President and CEO of LAZO. "Our company's slogan is Find a Treasure behind every Billboard which reflects the value we deliver to consumers and advertisers. We will be offering free iPads over the course of the next 3 weeks using a scavenger hunt -like contest with LAZO as the vehicle. Listen for clues every week on the Palm Beach Clear Channel Radio stations and register to win your iPad."
Gonzalo continued "This giveaway will be the first of many promotions run by us and our advertisers. We look forward to expanding our launch to the rest of South Florida and across the country."
To find out more about LAZO as a consumer or advertiser contact us at info@lazosystem.com 1-561-245-2397, at our website http://www.lazosystem.com or check us out on Facebook
About LAZO
LAZO is a private company based in Boca Raton, Florida and through its proprietary technology transforms outdoor advertising from a static exposure based media to a multimedia consumer engagement tool.
###