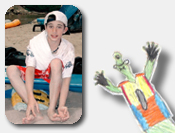 While a cure for pediatric brain tumors isn't available yet, I feel confident that the proceeds raised through Wylie's Day and the Four Seasons CHOP run can help make a difference in the lives of children in the future.
Horsham, PA (PRWEB) September 15, 2011
Nucazza, a real estate education company in Horsham, PA is again this year helping promote the CHOP (Children's Hospital of Philadelphia) Four Seasons Parkway Run and to support the Wylie's Day Foundation. The Four Seasons Parkway Run is an annual event that raises money to fight childhood leukemia and Wylie's Team, one of the largest teams to participate, was able to raise $25,000 last year for the cause.
Wylie Strotbeck lost his battle with a brain tumor in 2005. Through his courageous fight and the efforts of his parents Stephanie and John and brother Max, Wylie's Day was created to provide direct funding for medical research toward finding a cure for pediatric brain tumors so that one day no child (or family) will need to suffer through such a difficult journey.
Niucazza CEO Glenn Freezman considers it an honor to participate. "I have been friends with the Strobeck's for years and it is my personal wish that no other child will ever need to go through what Wylie went through. While a cure for pediatric brain tumors isn't available yet, I feel confident that the proceeds raised through Wylie's Day and the Four Seasons CHOP run can help make a difference in the lives of children in the future. It's also a fun event and a chance to hang out with some very nice people."
Local runners/walkers wanting to join Wylie's team or make a donation to the cause can do so at http://giving.chop.edu/goto/wyliesday
###