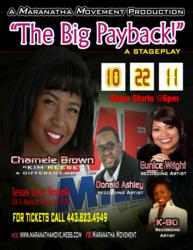 Milford, DE (PRWEB) September 19, 2011
Charnele Brown, from A Different World, stars in the play, The Big Payback, as a precursor to the movie,The Coffee Klutch.
This stage play deals with loss as all families unfortunately face. The Matriarch, holds the family together and many obstacles arise as she stragetically copes with the greed and selfishness of the family members after the loss. One ticket holds the key to the downfall or the success of this family.
Come and enjoy the cast of The Big Payback, and watch and interact with the ups and downs of a family while you will laugh, cry, and learn valuable lessons of what family stands for and how we affect each other living our daily lives.
Purchase Tickets: The Big Payback
Charnele's next project is The Coffee Clutch , is a feature film in which Charnele digs deep into the psyche of the people who matter most our friends and shows the audience how Love, Tolerance, and Faith Conquer all.
A Coffee Klutch is a gathering of people over coffee in a close setting, and usually is a comfort zone for people to express their thoughts aboout their lives and to get advice. Although our film features African American Actors, our premise and subject matter is universal. We will bring a film dealing with human issues and relations, making it intriguing to all.
Coffee Klutch is a film that tracks four major friends: Sam, (Charnele Brown) who's been married to Dorian, (Tico Wells) for 15 years, Dominique,(AJ Johnson), who has self inflicted sabotage regarding men, Cindy (Crystal Fox), who is the first lady of The Baptist Church, Rev. Mercer (Michael Beach) residing and Monica (Karen Malina White) Cindy's little sister, who is dominated by her lawyer husband Jonathan (T.C. Carson).
This film will have a lot of surprises and special stars in which you have to wait for the trailer to see.
Come and Get an autograph from "Kim Reese" aka Charnele Brown on October 22, 2011 after you enjoy The Big Payback stage play at:
Jesus Love Temple,
106 S. Walnut Street,
Milford, DE
For tickets: Call 443-823-4949
###