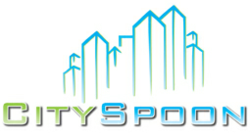 Naturally, we need to expand our team to meet our growing business demands.
Las Vegas, NV (PRWEB) September 15, 2011
CitySpoon is expanding its sales team to support an increasing number of vendors and user accounts. After seeing record numbers in August, CitySpoon announces the Sales Representative position open immediately to individuals with previous sales experience seeking competitive salary.
"We doubled our CitySpoon.com users in August and we expect to continue that trend in September and for months to come," CitySpoon VP Kevin Brooks said. "Naturally, we need to expand our team to meet our growing business demands."
The full-time Sales Representative position will be instrumental in increasing overall sales, new vendor accounts, and general business development of CitySpoon.com. Salary will be base plus commission.
Responsibilities include but are not limited to:
Educating potential clients on CitySpoon platform and reach
Cold calls and door to door sales
Responding in a timely manner to all existing and potential client inquiries
Maintain and up-sell existing clients
Meet or exceed weekly and monthly goals
Submit weekly sales reports
Qualifications:
High School Diploma; higher education a plus
Sales experience in commission or quota based environment
Excellent written and verbal communication
Working knowledge of Internet
Skills in basic email and Microsoft Office
Ability to identify and understand potential client needs
For more information please visit job listing at CitySpoon's official blog or contact kevin(at)cityspoon(dot)com.
CitySpoon is currently offering national coupons for major brands including Glade and Campbell's and locals establishments Agave Mexican Restaurant and Buzz BBQ. Check out the CitySpoon's Events section for the hottest events in your city including Kanye West and Jay-Z at MGM Grand Garden Arena and LMFAO featuring Ke$ha at Planet Hollywood Resort and Casino.
About CitySpoon:
CitySpoon, launched in Summer 2011, serves as a local guide for living bigger, better, and smarter by providing in-the-know recommendations, candid user reviews and expert advice for businesses and events in CitySpoon community.
CitySpoon was created as a multi-platform resource for people to save money and help businesses grow. The site offers discounts on national products consumers already know and love while providing local businesses with an affordable avenue to market their current promotions.
CitySpoon members are enthusiastic about life and the driving force behind the company. Together with a private network of local and national businesses, CitySpoon offers fun, affordable experiences. CitySpoon keeps "Spooners" connected to the most popular and unique places and products.
For more information please visit http://cityspoon.com.
Follow CitySpoon on Twitter: @CitySpoon
"Like" CitySpoon on Facebook: facebook.com/cityspoon
###