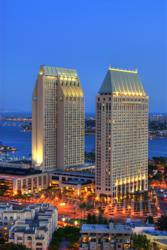 The renovation will enhance the exceptional service and amenities that guests of the hotel have come to expect
(PRWEB) September 19, 2011
Manchester Grand Hyatt San Diego today announced plans for a renovation of guestrooms, meeting facilities, lounges, restaurants and public space.
A designer is currently being selected, with work on the downtown San Diego luxury hotel is tentatively scheduled to begin in spring 2012. The hotel's new owner, a subsidiary of Host Hotels & Resorts, Inc., purchased the 1,625-room property in March 2011 for $570 million.
The original tower of Manchester Grand Hyatt San Diego opened in 1992, and the second tower was launched in 2003. Following the renovation, guestrooms at the San Diego luxury hotel will have a contemporary, upscale design with a California chic look and feel.
"The renovation will enhance the exceptional service and amenities that guests of the hotel have come to expect," said John Schafer, vice president, managing director, Manchester Grand Hyatt San Diego. "We are very appreciative of our owner's commitment to Hyatt and are thrilled to have a long term agreement to manage the hotel."
"Having Host own and Hyatt operate one of San Diego's premier convention hotels is good for the city," noted San Diego Mayor Jerry Sanders. "The success of these hospitality-industry icons speaks for itself. Both organizations have outstanding reputations and are important partners in the citywide effort to sustain and grow San Diego's vital tourism industry."
This announcement of plans to invigorate the downtown Hyatt coincides with several recent, positive actions that cumulatively will play a vital role in the future of San Diego's tourism industry, including the current $1 billion airport expansion and the planned $29.6 million North Embarcadero improvement project.
With this relationship, both Hyatt and Host continue to increase their presence in San Diego. Since 2010, Hyatt has added Park Hyatt Aviara Resort, Andaz San Diego and Hyatt Summerfield Suites San Diego/Carlsbad to its roster of longtime San Diego properties: Hyatt Regency Mission Bay Spa and Marina, Hyatt Regency La Jolla and Manchester Grand Hyatt. Host's acquisition of Manchester Grand Hyatt brings the number of San Diego area hotel rooms it owns to over 4,600.
About Manchester Grand Hyatt San Diego 2011
Located on the Gaslamp Quarter's waterfront, Manchester Grand Hyatt San Diego overlooks San Diego Bay and many rooms offer spectacular views of the Pacific Ocean too. This urban resort defines San Diego's skyline and is comprised of two stylish towers, the 33-story Seaport Tower and the 40-story Harbor Tower, the latter of which is 497-feet tall, making it the tallest building on the west coast waterfront. Connecting the two towers is a four-story building that boasts a rooftop pool with a 25,000 square-foot deck. The stylish Hyatt includes 95 one-and-two-bedroom suites, Kin Spa with a full-service salon and an adults-only pool at adjacent Kin Oasis, tennis courts, bay-view pool and deck, a fitness center and several award-winning restaurants and lounges –most all overlooking the bay. It is adjacent to Seaport Village, near Horton Plaza and convenient to San Diego International Airport, San Diego Zoo and Sea World. For more information, call (619) 232-1234 and visit http://www.ManchesterGrand.Hyatt.com. The hotel's latest news, special offers and information on upcoming events is also found at http://www.facebook.com/manchestergrandhyattsd on twitter @ManchGrandHyatt.
About Host Hotels & Resorts®
Host Hotels & Resorts, Inc. is an S&P 500 and Fortune 500 company and is the largest lodging real estate investment trust and one of the largest owners of luxury and upper-upscale hotels. The Company currently owns 106 properties in the United States and 17 international properties totaling over 65,000 rooms, and also holds a non-controlling interest in a joint venture that owns 11 hotels in Europe with approximately 3,500 rooms. Guided by a disciplined approach to capital allocation and aggressive asset management, the Company partners with premium brands in the operation of properties in over 50 major markets worldwide. For additional information, please visit the Company's website at http://www.hosthotels.com.
###
Forward-Looking Statements
Statements in this press release, which are not historical facts, are "forward-looking" statements within the meaning of the Private Securities Litigation Reform Act of 1995. These statements include statements about our plans, strategies, financial performance, prospects or future events and involve known and unknown risks that are difficult to predict. As a result, our more actual results, performance or achievements may differ materially from those expressed or implied by these forward-looking statements. In some cases, you can identify forward-looking statements by the use of words such as "may," "could," "expect," "intend," "plan," "seek," "anticipate," "believe," "estimate," "predict," "potential," "continue," "likely," "will," "would" and variations of these terms and similar expressions, or the negative of these terms or similar expressions. Such forward-looking statements are necessarily based upon estimates and assumptions that, while considered reasonable by us and our management, are inherently uncertain. Factors that may cause actual results to differ materially from current expectations include, among others, the rate and pace of economic recovery following the recent economic downturn; levels of spending in business and leisure segments as well as consumer confidence; declines in occupancy and average daily rate; hostilities, including future terrorist attacks, or fear of hostilities that affect travel; travel-related accidents; changes in the tastes and preferences of our customers; relationships with associates and labor unions and changes in labor law; the financial condition of, and our relationships with, third-party property owners, franchisees and hospitality venture partners; risk associated with potential acquisitions and dispositions and the introduction of new brand concepts; changes in the competitive environment in our industry and the markets where we operate; outcomes of legal proceedings; changes in federal, state, local or foreign tax law; fluctuations in currency exchange rates; general volatility of the capital markets and our ability to access the capital markets. A more complete description of these risks and uncertainties can be found in our filings with the U.S. Securities and Exchange Commission, including our Annual Report on Form 10-K. We caution you not to place undue reliance on any forward-looking statements, which are made as of the date of this press release. We undertake no obligation to update publicly any of these forward-looking statements to reflect actual results, new information or future events, changes in assumptions or changes in other factors affecting forward-looking statements, except to the extent required by applicable laws. If we update one or more forward-looking statements, no inference should be drawn that we will make additional updates with respect to those or other forward-looking statements.