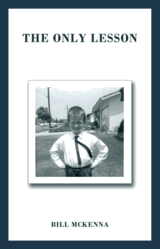 The true adventures give way to a powerful message that will change how readers view life.
SAN DIEGO (PRWEB) September 19, 2011
No one said that life's journey to understanding is easy, but it almost killed Bill McKenna…multiple times.
In his new memoir, The Only Lesson, McKenna recounts his struggles to thrive through abuse, depression, shipwrecks and even a skydiving accident that left him plummeting hundreds of feet to the earth.
The book, which encompasses everything from his strict Irish-Catholic upbringing to biking over 13,000 miles, is a compilation of the lessons McKenna learned when one seemingly mild mishap sent him down a new path.
"My book started as a literal and figurative accident when I wrecked my yacht in Mexico," says McKenna. "That set in motion a series of events that charted me in a direction I had no intention of going. I am just a regular guy who stumbled into an extraordinary experience."
The Only Lesson follows more than just McKenna's life – it seamlessly weaves his experiences with lessons oftentimes obvious, such as the importance of forgiveness and value of intuition. According to McKenna, each new small concept is merely a pit stop that sets the stage for the reader's own discovery of the only lesson we are here to learn.
"This is a crossover book," says McKenna. "The true adventures give way to a powerful message that will change how readers view life."
For more information, visit TheOnlyLesson.com, Facebook or YouTube.
The Only Lesson
By Bill McKenna
ISBN: 9781452535029
Paperback, retail price: $11.95
Hardcover, retail price: $28.95
e-book price: $7.99
About the author
Bill McKenna earned a bachelor's degree from Saint Mary's College in Moraga, Calif. While establishing a successful sales career, he pursued various passions including skydiving, helicopter/airplane piloting, yachting and earning a black belt in mixed martial arts. McKenna and his wife, Michelle, live in Southern California.
EDITORS: For review copies or interview requests, contact:
Jason Gloye
Phone: 317-602-7137
Email: jgloye(at)bohlsenpr(dot)com
(When requesting a review copy, please provide a street address.)
###