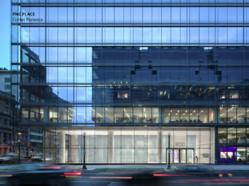 Washington, DC (PRWEB) September 18, 2011
In conjunction with the two-week long, 13th annual Architecture Week celebration, the Washington Chapter of the American Institute of Architects (AIA|DC) announces the winners of the 2011 Chapter Design Awards, recognizing twenty-five top projects in Architecture, Interior Architecture, Historic Resources, and special Presidential Citation categories.
This year's winning projects and design firms will be honored at the annual Chapter Design Awards and Architecture Week closing party, to be held on Friday, September 23 from 6:30-9pm at the Woolly Mammoth Theatre, a previous AIA|DC Design winner designed by McInturff Architects, in the heart of the Penn Quarter neighborhood.
On Friday, September 9th, a jury of a dozen architect and design industry professionals from across the country took the full day to review and classify more than 195 entries submitted for consideration in the competition. The jury round-table culminated in a live announcement of the project winners in the various categories, with the PNC Place LEED Platinum project designed by Gensler selected for an Excellence Award in Architecture, and one of four projects recognized with a Presidential Citation for Sustainable Design. This year an inaugural Presidential Citation for Universal Design was awarded to SmithGroupJJR for the Sorensen Communications Center at Gallaudet University.
David Jameson Architect was recognized for achievement in Architecture for four different residential projects, with three Merit Awards and an Excellence Award, which is an unprecedented number of honors given to any one architect or firm in a single category since the start of the AIA|DC Design Awards program. A total of twenty separate Washington, D.C. region architecture and design firms were honored, with Jameson (4), Gensler (2), BBG-BBGM (2), and SmithGroupJJR (2) as the firms that were each honored with more than one award.
A full list of all winning projects / firms may be found at the end of this release. Individual images for award-winning projects will be provided upon request.
Members of the general public are invited to attend the Design Awards event and Architecture Week closing party at the Woolly Mammoth Theatre, located just steps from the soon-to-be-completed District Architecture Center (DAC), at 421 7th Street, NW. The DAC is a stunning 11,000 sf education, resource center, events and administration space that will house the AIA|DC, the Washington Architectural Foundation, and a satellite location for the Alliance Francaise.
For more information on the Washington Chapter AIA, for tickets to the annual Design Awards and Architecture Week closing party event, on Architecture Week or the new District Architecture Center, please visit http://www.aiadc.com.
Washington Chapter AIA 2011 Design Award Winners (by category)
Architecture / Merit

Kalevala Project, Travis Price Architects
Jigsaw House, David Jameson Architect
Barcode House, David Jameson Architect
Kensington House, David Jameson Architect
House at Folly's Cove, David Jones Architects
Founders Hall at GMU, SmithGroup JJR
St. Alban's School Marriott Hall, Skidmore Owings Merrill
Sacramento Readiness Center, URS Corporation
Architecture / Excellence

Magar Memorial to the Ancestors, Travis Price Architects
Graticule, David Jameson Architects
PNC Place, Gensler - also recognized with a Presidential Citation in Sustainable Design
Interior Architecture / Merit

Under Armour, Gensler
CAVA Grill, CORE architecture + design
Interior Architecture / Excellence

Lassus Residence, Schlesinger Associates Architects
N Street Trust, Jacobsen Architecture
Pew Charitable Trust, Gensler
Historic Resources / Merit

W Washington Hotel, BBG-BBGM
Workhouse Arts Center, BBG-BBGM
Petworth Neighborhood Library, Frank Lohsen Architects
House in Newport, RI, Outerbridge Horsey Associates
Historic Resources / Excellence

Eastern High School, Fanning Howey
Presidential Citation for Sustainable Design

PNC Place, Gensler
Stoddert Elementary School, Perkins Eastman
Hazel River Cabin, Bonstra Haresign Architects
USGBC HQ, Envision
Presidential Citation for Universal Design

Sorensen Communications Center at Gallaudet, SmithGroupJJR
Presidential Citation for Urban Design

Mary Catherine Bunting Center at Mercy Hospital, AECOM
###