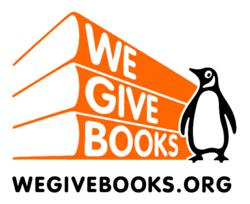 New York, NY (PRWEB) September 16, 2011
Millions of children in low-income neighborhoods don't have books in their homes, missing out on the chance to develop crucial early literacy skills that affect their success in the classroom and in life. We Give Books, a digital reading initiative from the Pearson Foundation and the Penguin Group, is on a mission to change all that.
We Give Books makes it easy to help people enjoy reading together, at the same time providing books to those who may not have access to them. Anyone with access to the Internet can visit the site (http://www.wegivebooks.org) to read one of the free books available in its online library, and We Give Books donates a book to a leading literacy group on his or her behalf.
Now We Give Books has introduced a new initiative which takes that concept and adds a twist: Read for Our Schools is tied directly to Jumpstart's Read for the Record campaign, which is presented in partnership with the Pearson Foundation. The annual Read for the Record campaign draws attention to the importance of early literacy by setting a new record for the most people reading the same book on the same day. Through Read for Our Schools, for each free book read online at http://www.wegivebooks.org between now and Oct. 6, the Pearson Foundation will donate a copy of Llama Llama Red Pajama – this year's official Read for the Record title. These donations will enable children who otherwise wouldn't have the chance to participate in the day's events. Through We Give Books' Read for Our Schools campaign, the foundation will donate 50,000 books to 150 participating school districts.
"I commend the We Give Books campaign for its creative approach in promoting the importance of reading in our children's lives," said Florida Education Commissioner Gerard Robinson. "By making free online books available to families, and linking the use of that free material to this year's Read for the Record, we are engaging our children in the reading process in imaginative and compelling ways."
"Jumpstart's Read for the Record shines a spotlight on our obligation to ensure that young people everywhere have an equal chance to succeed," said Pearson Foundation President and CEO Mark Nieker. "We Give Books and Read for Our Schools add an important digital element that provides another way for people to show they care."
Visit http://www.wegivebooks.org/readfortherecord to learn more and to register for this year's Read for the Record.
Media Contact:
Stacey Finkel, Pearson Foundation, Stacey.finkel(at)pearsonfoundation(dot)org, 703.304.1377
About We Give Books
We Give Books is a philanthropic program from the Penguin Group and the Pearson Foundation that helps children become lifelong readers and givers. Together, Penguin Group and the Pearson Foundation support literacy through programs that engage entire communities. Working around the world through programs like Booktime, We Give Books, and Jumpstart's Read for the Record, Penguin and the Pearson Foundation have touched millions of lives in thousands of communities. To learn more about the We Give Books program and its nonprofit partners, go to we.givebooks.org.
About Jumpstart's Read for the Record
Jumpstart is a national early education organization that helps children develop the language and literacy skills they need for school, setting them on a path to close the achievement gap before it is too late. Read for the Record allows Americans to demand that all children receive the quality early education they deserve. For more information on Jumpstart and Read for the Record, visit http://www.jstart.org.
About the Pearson Foundation
The Pearson Foundation, a 501(c) (3) nonprofit, extends Pearson's commitment to education by partnering with leading nonprofit, civic, and business organizations to provide financial, organizational, and publishing assistance across the globe. The foundation aims to make a difference by sponsoring innovative educational programs and extending its educational expertise to help in classrooms and in local communities. More information on the Pearson Foundation can be found at http://www.pearsonfoundation.org.
# # #