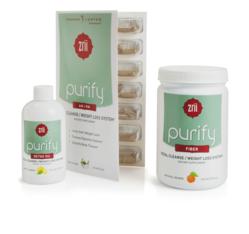 The Purify System goes above and beyond other detoxification programs.
Draper, UT (PRWEB) September 16, 2011
The highlight of the Convention was undoubtedly the launch of Zrii's all-natural cleanse and detox system, PURIFY™. With the unveiling of this revolutionary new system, for detoxifying your body and cleansing your digestive tract, Zrii has proven once again that it is the unequivocal leader in the all-natural health and weight loss field. With an increasing number of toxins in our environment, the formulators and Doctors at Zrii saw the importance and need for a detox and cleanse system which led to the formulation of the Purify System. PURIFY™, a radical breakthrough in terms of cleansing and weight loss, has a unique formulation of Ayurvedic herbs and botanicals. The system is gentle yet extremely effective and incorporates an exclusive detox oil which helps eliminate fat-soluble toxins from the body.
PURIFY™ is a complete system that is simple and practical. Easy as 1-2-3, the Purify System incorporates AM/PM Capsules, Detox Oil and Fiber to provide you with revolutionary cleansing at a cellular level. "The Purify System goes above and beyond other detoxification programs," says Suhas Kshirsagar, BAMS, M.D, Zrii Scientific Advisory Board member and Formulator of Purify. Ksirsagar goes on to say, "Most cleansing programs focus on organ cleansing, using harsh, drying ingredients, whereas Purify uses a gentle blend of ancient herbs to extract and eliminate toxins from the cells themselves."
Extraordinary demand for the Purify System led to record sales within the first two days of its launch. "We have been on the phone day and night with our team," explains Brad Hager, Founding 10 Star Executive, "everyone wants to get their hands on this exclusive system." Along with its weight loss counterparts, the Purify System also wears the prestigious seal of approval from the Chopra Center and is the only cleanse system that is endorsed by a third party company as credible as the Chopra Center. More information about the Purify system can be found at http://www.zriipurify.com.
Formally launched in May 2008, Zrii® LLC, founded by CEO Bill Farley (http://www.meetbillfarley.com) is an international wellness company that markets a premium line of all-natural nutritional and weight loss products. Exclusively endorsed by world-renowned health expert Deepak Chopra and the prestigious Chopra Center for Wellbeing™, the company is committed to helping individuals achieve better health and a better quality of life. Zrii's line of all-natural wellness products includes its flagship product, Zrii the Original Amalaki™; a revolutionary weight management and meal replacement system called Achieve™; Accell, a low-calorie energy and weight loss supplement; and Purify, a revolutionary new cleanse and weight loss system. Based primarily on the ancient wellness practices of Ayurveda, Zrii's products (http://www.zriiproduct.com) are helping people realize the joy of great health and great wealth, around the world.
###