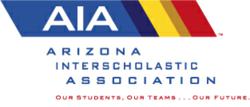 Phoenix, Arizona (PRWEB) September 16, 2011
The AIA Executive Board (Board) considered investigation findings regarding possible violation(s) and/or eligibility issues arising from a transfer by a student from Raymond S. Kellis High School (KHS) to Chaparral High School (CHS) in its board meeting of September 13, 2011. The investigation was requested by Scottsdale School District and CHS administration in May and June of 2011.
In July AIA notified KHS and CHS district administrations of the initiation of the investigation. Scottsdale district then raised the issue of a possible conflict of interest by the outside law firm retained by AIA to investigate this matter. As a result, and in the interest of providing complete objectivity, AIA retained new counsel.
Counsel then requested that the schools make various witnesses available for interviews. Witness interviews were conducted from late July through August 18. A total of ten (10) witnesses were interviewed. On September 1, AIA was notified that two other witnesses who were requested declined to be interviewed.
The AIA received the report of this investigation on September 6 and it was considered by the Board at its regularly scheduled meeting. Representatives of KHS and CHS were notified of the meeting and representatives from CHS and Scottsdale School District were present.
After review of the investigation findings, the Board found that the evidence does not reasonably support a determination of any rules violation or eligibility issue arising out of this transfer. It thanks the member schools for their cooperation in this matter.
###