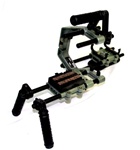 "My new CPM Camera Rig - Noisy Cricket . . .Thank you guys . . .it's just amazing . . ."
Fred Feser
Zuerich, Switzerland
Lusby, MD (PRWEB) September 16, 2011
CPM Camera Rigs, a leading manufacturer of lightweight camera rig systems known for their strength and durability has released the latest configuration that bears an uncanny resemblance to the crickets found outside their facility located on the Chesapeake Bay in Lusby, Maryland. Orders are brisk with new distributors; Light Craft Workshop in Hong Kong and A.F. Marcotec Group in Germany, joining US based distributors; B&H Photo Video in New York and Midwest Photo Exchange in Ohio.
CPM developed a system of carbon fiber rods combined with carbon-filled polycarbonate components to fill the need for strong yet lightweight configurations to house the cameras and multiple associated accessories using a cage, rod and bracket system. This system protects the camera while providing customizable accessory mounting points to increase the overall strength of the system without adding unnecessary weight.
CPM has over 20 camera rig configurations available for sale. The Noisy Cricket was developed to fit the needs of the "run and gun" style filmmaking community. Easily reconfigured from shoulder mount, to hand held, to tripod with a simple turn of adjustment knobs, a completely tool-less transformation. Designed for the modern DSLR and small video camera market such as Canon 5D, 7D and the Rebel line of T2 and T3 cameras, the flip cage easily accommodates the Panasonic GH line of cameras and their articulated screens. The offset feature of CPM's Z Bracket, included with the Noisy Cricket, allows for both raising and lowering of the camera's height, a "must have" feature when matched to Sony's new line of Alpha cameras including the A55, A65 and A77 due to their unique flip screen design.
Concepts and engineering to prototypes, tooling and final production, all aspects of manufacturing are performed under a single roof from CPM's operations center in Lusby, Md. Distribution in Hong Kong by Light Craft Workshop; http://www.lightcraftworkshop.com, includes a showroom where customers can see the camera rigs up close. The latest distributor, A.F. Marcotec Group, http://www.marcotec-shop.de/en, based in Germany has 52 dealers throughout Germany, Poland and Romania. As always all products may be ordered direct from the factory at http://www.cpmcamerarigs.com
For more information on CPM Camera Rigs, visit online at http://www.cpmcamerarigs.com or e-mail sales(at)cpmcamerarigs(dot)com
###