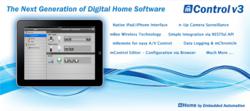 For making a residence more efficient or for our partners deploying an energy management solution to a range of homes, mControl v3 software is the cornerstone for Digital Homes.
Surrey, BC (PRWEB) September 16, 2011
Today, Embedded Automation released mControl v3 the next generation of their popular Digital Home software. mControl v3 is the culmination of two years of engineering, features many new product features and enhancements, and is the foundation for future innovation in the Digital Home.
"We are very pleased to announce mControl v3, which we see as the cornerstone for our continued effort to provide a singular integration point for the Digital Home," said Ted S. Singh, Business Development Manager of Embedded Automation. "With mControl v3, we are providing support for more devices, adding richer user interfaces and including many new features and enhancements. Now it's easier than ever before to access and control your home from anywhere using your favorite platform, whether it is a smart phone, iPad or web tablet. From streaming cameras, to connecting to the smart grid, to charting device usage, to getting real-time alerts – mControl v3 promises to revolutionize how homes are managed."
"With thousands of users worldwide, over seven years of development and participation in bleeding-edge Digital Home research projects, we've been able to leverage our knowledge and focus it into the requirements for the mControl v3 release. For home owners, mControl v3 provides unrivaled value for home monitoring and control – without expensive and awkward plans," said JB Golee, President and co-Founder of Embedded Automation. "In addition, mControl v3 provides our partners a scalable platform for advanced solutions. For example, because mControl v3 works seamlessly with our mBee products and the ZigBee Smart Energy (SE) profile – we can support our partners in the deployment of in-premise Energy Management Systems (EMS). For making a residence more efficient or for our partners deploying an energy management solution to a range of homes, mControl v3 software is the cornerstone for Digital Homes."
New mControl v3 features and enhancements include:

Support for Embedded Automation's mBee line of ZigBee® wireless technologies
mControl Editor – a browser-based configuration and administration interface
Advanced surveillance with N-up camera display – allowing real-time streaming of standard and hi-definition IP cameras
Native iPad/iPhone App – free download from the Apple App Store
Enhanced mobile user interface – optimized for smart phone browsers
mRemote (with Module Maker) – integrated remote control interface with device editor allows integration of virtually any serial, IP or Infrared (IR) device
Data Logging infrastructure – captures history of status and events for analysis and when used with Embedded Automation's mChronicle utility, allows data to be sent to cloud databases for advanced analytics and charting
Enhanced database allows for device and macro reuse, and nested zones
New code-based licensing method provides simplified activation
RESTful API provides a simplified method for building apps around the mControl engine
Many other core and driver enhancements
mControl v3 is now available from Embedded Automation's web store and from the mHome Dealer Network. Users interested in upgrading from previous versions of should consult the "mControl v3 – Upgrade Guide" available on the mControl v3 product page.
About Embedded Automation
Founded in 1998, Embedded Automation designs, manufactures, and markets solutions for "Digital Home" under the mHome product family. mHome products are available from Embedded Automation and through the mHome Authorized Dealer Network.
Contact Information
http://www.EmbeddedAutomation.com
info(at)embeddedautomation(dot)com
(604) 596-4999
###