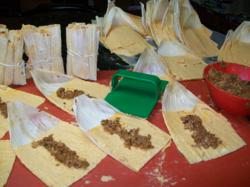 "Delicious El Diez y Seis Tamales"
Corpus Christi (PRWEB) September 20, 2011
El Diez y Sies de Septiembre is Mexico's independence from Spanish rule. This sixteenth of September we'll be celebrating with a big fiesta and some delicious homemade tamales. Viva Mexico!
Tamales are used to celebrate this very festive occasion and because of my Hispanic heritage a creation for a Tamale recipe especially for this celebration. "El diez y sies " what better name since it has sixteen ingredients to make el diez y sies tamales.
A total of diez y sies or sixteen ingredients are needed for this recipe. Eight Tamale dough ingredients: Masa harina, oil, salt, chili powder, baking powder, garlic powder, and broth. And eight more ingredients for the rest of the tamale process: Pork meat, poblano peppers, fresh garlic, pepper, cumin, meat broth, jalapenos, and corn husks.
The celebration occurs throughout the month, enjoy the flavors of "El Diez y Seis Tamales" while you commemorate Mexico's independence and Hispanic heritage month.
.
"It is important to help our Hispanic families hold onto their cultural tradition, tamales being one essential aspect," says Sandra. TamaleSpreader.com has video clips that will guide viewers through the tamale making from start to finish. The website also has simple recipes for authentic Mexican tamales using lard or oil and fresh masa or masa harina. Please forward any additional recipe help inquires to info(at)mex-sales(dot)com.
El Diez y Sies Tamale Filling
3 cups cooked shredded pork roast
½ cup pork stock
1 4 oz can green chilies
1 Tbs chili powder
1/2 tablespoon garlic powder
1 teaspoon ground pepper
1 teaspoon salt
1 small can mild Jalapenos
Place shredded pork in large bowl and add stock. Add green chilies, chili powder, garlic, pepper and salt. Mix until blended. Add a slice of Jalapeno to each tamale
Tamale Masa Dough Makes 2 dozen (24 tamales)
2 cups masa harina
2 cups broth and warm water
½ cup vegetable oil or corn oil
1 Tsp garlic powder
1 Tbs chili powder
1 Tsp salt
1 Tbs baking powder
24 cornhusks soaked in hot water
Mix masa harina and stock until dough consistency
Measure oil in a large cup add chili, garlic and salt and mix. Mix until ingredients dissolve into the oil . Add oil mixture to masa and mix all ingredients thoroughly. Add baking powder then let rest for 5 minutes. Then spread on the silky side of the cornhusk. Fill with your favorite filling. Roll by fold long side over meat tuck tip inward and roll over. Place in steamer open end up and steam cook in rice steamer for 30 minutes or in microwave for 20 minutes.
###