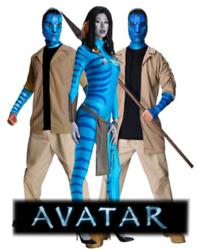 Their selection includes the full officially licensed collection of Avatar Movie costumes for kids and adults.
Mancos, CO (PRWEB) September 16, 2011
Avatar Costumes are in stock and ready for the 2011 Halloween season. Movie fans can journey into the Earth-like planet Pandora and begin their own adventure as the native Na'vi. Their selection includes the full officially licensed collection of Avatar Movie costumes for kids and adults.
James Cameron's Avatar is an academy award winning, blockbuster movie that continues to touch hearts and inspire the imagination of all who watch it. The 2009 epic science fiction film broke several box office records during its release and is still the highest-grossing film of all time in the United States, Canada and worldwide. In the latest news, James Cameron announced at the 2011 CinemaCon in Las Vegas that he is looking at a higher frame rate per second to give them an added sense of reality. Avatar costumes allow movie fans to keep the world of the Na'vi alive.
The women's Avatar Neytiri Costume is part of the sexy Secret Wishes collection. The sexy Neytiri costume includes a curve-hugging blue striped spandex jumpsuit with an attached Na'vi tail and mini gray waist loincloth, wrist gauntlet, braided necklace with feathers and beaded necklace / wrist accessory. Their Avatar Neytiri Costume for kids features a striped blue jumpsuit with attached mini gray waist apron and tail, gauntlet, feather necklace and a long string of beads. This Neytiri Avatar Costume for kids and women will have movie fans looking like the princess of the Omaticaya tribe.
The Deluxe Jake Sully Avatar Costume for men and kids includes a khaki jacket featuring ruched shoulders, attached black shirt with a blue collar and Na'Vi style blue striped arm sleeves, matching khaki pants with attached tail and a blue Na'Vi character mask. The standard style will not include the pants. The Jake Avatar Costume will have movie fans looking like they are participating in the Avatar Program as the Na'vi-human hybrid, Corporal Jake Sully, as he wanders through the Pandora jungle in his human clothes.
Customers can enhance their Avatar Halloween costume with officially licensed Avatar costume accessories at TotallyCostumes.com. The Avatar Na'Vi Make-Up Kit includes cream face make-up (blue, white, black), 80 rhinestones, sponge and brush application tools and blue glitter gel to give your Avatar costume that authentic Pandoran warrior appearance. The deluxe Neytiri wig will top off your Pandoran priestess or princess costume with its jet black hair in large and small braids, cherry red beads and attached feathers. The jet black braided hair on the Deluxe Jake Sully wig will add that authentic detail to your rugged Na'vi hybrid warrior. The Na'vi Bow with blue arrows, Na'vi Hunting Knife with Sheath and Navi Spear prop are some of the available toy weapons. A Jake Sully mask, fake Avatar teeth and Na'vi pointed ears are a few of the other items at TotallyCostumes.com from the officially licensed James Cameron Avatar costume accessories selection.
About the Company:
TotallyCostumes.com, a leading retailer of costumes and costume accessories for all occasions, makes sure the party never stops! This e-commerce costume retailer believes in carrying a large selection of high quality costumes in all sizes, styles and themes to fulfill any party, costume or event requirement. They have a dynamic team that works together so their customers receive their order quickly. Their friendly customer care team is dedicated to providing their customers with diligent service while their shipping facilities work efficiently in shipping your order out as quickly as possible.
###