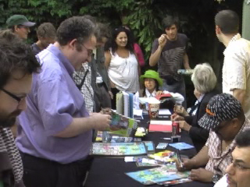 More Fun per Page
more Madness for your Dollar
The Real Deal Comix Motto
Los Angeles, CA (PRWEB) September 26, 2011
Real Deal Comix known and loved by independent comic book fans worldwide for twenty years has followed the natural progression for comic books and is entering character licensing, internet, multi media and commissioned artwork. , Real Deal artist have designed original CD cover artwork for the alternative rock band "WRONG BEACH" which is being produced in Germany and is scheduled for release in the next few months. It seems there are many creative people who are Real Deal fans who want Real Deal style artwork for their various media projects, and the artist at Real Deal are glad to provide it to them. Please disregard licensing agreement information contained in previous 9/16/11 press release.
Real Deal Comix, whose catch phrase is "More Fun per Page, More Madness for your Dollar," is a world renowned independent comic book for hip audiences. It is distributed world wide and has many loyal fans that love its wild artwork and biting satire, and find it never fails to satisfy.
"I am happy that Real Deal #7 is finally coming out. We are excited," stated Kimte Kamani aka (Crazy Kamani), Real Deal Comix's Special Projects Coordinator.
For the uninitiated Real Deal Comix is in the genre of Urban Chaos, which is a humorous essay of the madness that occurs in the urban centers of America. Each story depicts the everyday struggles of the urban dwellers who go off on each other out of the rage and futility that their lives bring them. These people live on the edge of a precipice with a stand or back down attitude. In a Real Deal story simple everyday acts such as going to the store or buying gas can end in a wild hilarious situation. Join G.C, Ace Brogan and Slick Willie in their adventures in da' hood, and remember, they live a real man's life, no matter what, they never back down.
Cool projects coming soon from Real Deal Comix!
Jabbo the Blind Pimp, Floy Floy Jackson, Private Detective, Scurge of the 7 Seas Psycho Pirates, Snuff & Tuff, Hillbilly maniacs, Power Bear, Native American revenge comic. Bobble head dolls, actions figures, T-shirts, caps, stickers and other souvenir items. Animation and video games licensing for all characters.
Comic Book fans and anyone else interested in learning more information about Real Deal Comix should check us out at http://www.realdealcomix.com and also view the "Real Deal Comix Interview" and "The Real Deal Video" via these links or the links in the Real Deal Comix website to YouTube.
###