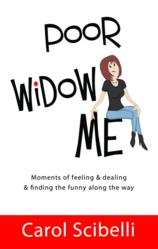 New York - September 16, 2011 (PRWEB) September 16, 2011
Comedy writer Carol Scibelli has just released her feisty, original, often humorous, always unpredictable and resonating look at the first five years after her husband died.
POOR WIDOW ME: Moments of feeling & dealing & finding the funny along the way is a collection of 84 bits that take the reader through a variety of accessible experiences down the road after loss, but from a completely fresh perspective.
Actress/Producer/Director/Penny Marshall calls Scibelli's idea for the book "a brilliant concept," and says "divorced people will relate to POOR WIDOW ME, too...I can already see it as a movie or a TV series."
Jill Zarin, one of the stars of "Housewives of New York City," views the book as "the perfect gift when you don't know what to say. Carol Scibelli does," states Ms. Zarin. "And," she adds, "her candid, edgy, and genuine take on her life after she lost her husband will make it the new go-to book for widows and widowers."
Sally Jessy Raphael says POOR WIDOW ME "manages to console and encourage, with just the right touch of humor, that comes from the heart and tickles the soul."
Scibelli, who's written for dozens of publications, including The New York Times, Newsday, and the Hartford Courant, has also had her one-act plays performed around Manhattan, and is a popular speaker at widow conferences.
"I'm a real believer in grief relief," Scibelli explains, "and in reiterating that when we lose our spouse we don't lose ourselves. And I'm wired to be funny, so I saw much of wht I put in the book from that mindset. But really, who wouldn't have to laugh if they were on the receiving end of some of the things I was, like the person who after I said I got a dog, a little over a year after my husband died at 56, came back with: "Great that you got a little one. They live a long time'..."
"You just can't make this stuff up. And it's been so gratifying having widows from all over tell me how helpful it was for them to hear or read the ways I talk and write about what really happens after a loved one's death - that it gave them, in a sense, permission to smile and laugh again, too."
POOR WIDOW ME: Moments of feeling & dealing & finding the funny along the way is now available at Amazon.com, Barnes&Nobe.com, iBookstore, and Sony.com
Further information can also be found at: http://www.PoorWidowMe.com
###