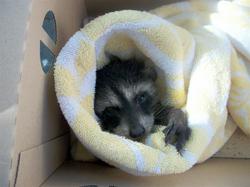 The little guy was cold, hungry and dehydrated, but it could have been a lot worse.
Novato, CA (PRWEB) September 15, 2011
A baby raccoon trapped in a gutter drain pipe on Alconbury Way in the Hamilton area of Novato was rescued this afternoon by the Marin Humane Society (MHS). MHS Animal Services responded to a call at 1:27 p.m. from concerned children in the neighborhood who heard the cries of the approximately one month old baby.
VIDEO LINK OF RESCUE: http://www.youtube.com/marinhumane
The Marin Humane Society's Lieutenant Steve Hill, Sergeant Michelle Rogers, Officer Robert Wooster and David Abrams spent more than two hours on scene. Instrumental in the rescue was the use of a plumbing camera to help locate the animal and navigate a safe rescue.
"Many thanks go to the astute young observers who alerted us to an animal in distress," said Sergeant Rogers. "The little guy was cold, hungry and dehydrated, but it could have been a lot worse."
The raccoon is now resting comfortably at WildCare wildlife rehabilitation center in San Rafael.
The Marin Humane Society offers refuge, rehabilitation, and support services to more than 10,000 domestic animals and wildlife each year through a myriad of community services, including adoptions, foster care, behavior and training, humane education, pet assistance for people in need, lost-and-found pet services, and more. In addition to our role as non-profit animal shelter, MHS is responsible for upholding county and municipal animal services ordinances through a Joint Powers Agreement contract with the County of Marin. Go to MarinHumaneSociety.org.
###