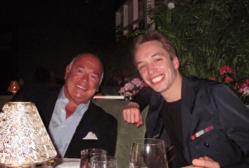 God bless you, Frank, and Rest In Peace
Hollywood, California (PRWEB) September 15, 2011
International pop star KUBA Ka would like to extend his deepest sympathy to Frank Dileo's family, friends, and loved ones and that he shares in their grief and sorrow. The legendary manager and music industry veteran signed KUBA Ka to the Dileo Entertainment Group in July, 2010. Frank DiLeo's passing is heartbreaking to the young star, as Mr. DiLeo was a mentor and a dear friend to KUBA.
"Frank DiLeo is truly one of the greats in the music and entertainment industries and is a true icon." States KUBA Ka. "I will always be honored that Frank picked me as his first client after managing the late, great Michael Jackson."
"God bless you, Frank, and Rest In Peace" – KUBA Ka
About KUBA Ka:
KUBA Ka is an international singer, dancer and actor hailing from Poland. He is considered a pop superstar and humanitarian in his homeland and throughout Europe. KUBA was named one of the Greatest Men of 2001 by the Polish edition of ELLE Magazine. KUBA has performed with legendary icons including Oscar winning actress Vanessa Redgrave. In 2000, KUBA was a guest star of the Christmas Day for the Youth at Presidential Palace in Warsaw, invited by the former President of Poland – Aleksander Kwasniewski and his wife – Jolanta. The stage was set for worldwide domination when legendary manager and music industry veteran Frank DiLeo signed KUBA Ka to a management deal with the Dileo Entertainment Group in July, 2010.
Unfortunately, Frank DiLeo, who helped guide the late King of Pop Michael Jackson's career to become one of the greatest entertainers of all time, died on August 24, 2011 due to complications from heart surgery in March of this year. Mr. DiLeo was laid to rest on August 31, 2011.
KUBA Ka has now signed with celebrity consultancy Raffles Entertainment and is working on his American debut for 2012. KUBA is also working with world renowned vocal coach Seth Riggs.
For more information, please contact Raffles Entertainment.
###