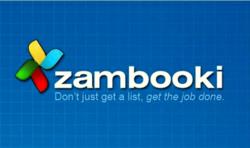 Zambooki connects contractors with homeowners. From landscaping to roofing and everything in between!
Tuscaloosa, Alabama (PRWEB) September 16, 2011
A new website, Zambooki, allows users to list jobs under the categories: lawn & garden, interior, exterior and disaster relief. The user selects how long the job will be posted. During this time contractors place bids on the job. The user receives an email at the end of the period of all the bids. The email also includes contractor names, prices and whether or not the contractor is certified, insured and has a business license. It is then the user's decision of whom to select for work. Once the decision is made, Zambooki emails the contractor and the contractor contacts the client. This eliminates phone book use followed by numerous calls and hours on the phone.
Zambooki has recently partnered with ProjectBlessings, a nonprofit group in Tuscaloosa that aids families in need of rebuilding after the devestating storms that hit back in April. Zambooki is also looking to connect with nonprofits in Joplin, MO and in the North east where Hurricane Irene has caused damage.
Many people have been attracted to the site due to it being free for all users. Tuscaloosa founders Heath Hendrix and Jacob Jones were inspired by the tornado outbreak on April 27, which left parts of the city of Tuscaloosa unrecognizable, to make the website free. They hope this will allow Zambooki to help people such as victims of the storms. All the categories may be related to storm damage such as interior or exterior work needed due to tornado wreckage.
The idea for Zambooki, which was launched on July 24 2011, began when Hendrix wanted a nursery painted for his newborn and could not find price listings online. This should no longer be a problem for Hendrix and the users of the site. Homeowners are also encouraged to "window shop" for an idea of prices for upcoming projects also. There is no commitment made to a job when you post it. Site visitors have the luxury of selecting a job or simply getting an estimated price and contractor in mind for the future.
Zambooki took around ten months to develop and also has a feature, which allows users to upload pictures of the work to be done. The more information given, the more aggressive the estimates will be.
"We have built a free market for contractors and homeowners.," said founder, Heath Hendrix. "With the partnership of Zambooki.com and ProjectBlessings.org, we are connecting contractors with those in need of work to be done."
###