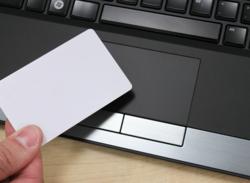 Because of its location and size, the trackpad is an ideal place to add an NFC antenna to a notebook.
Salt Lake City, UT (PRWEB) September 16, 2011
With the announcement of NFC features in Windows 8, Microsoft is bringing near field communication to the PC. Cirque's NFC GlidePoint solution integrates NFC with the trackpad enabling notebook ODMs and OEMs to easily add this capability to their products. This solution is based on Cirque's patented integration of an NFC antenna with a touch sensor (US Patent 7,306,144 and patents pending).
Notebooks equipped with NFC GlidePoint will be able to take advantage of the new Windows 8 "Tap to Share" and "Tap to Pair" features. "Because of its location and size, the trackpad is an ideal place to add an NFC antenna to a notebook," says Richard Woolley, Vice President of Cirque Notebook Solutions, "Alps and Cirque are in an ideal position to offer this solution to our customers, thanks to our unique focus on combining NFC and touch."
Trackpads based on Cirque's GlidePoint technology, which are manufactured and distributed by Alps Electric, are implemented in millions of notebook computers worldwide. In addition to the new NFC integration, GlidePoint trackpads offer industry leading features like multi-finger gestures, precise finger tracking and TouchGuard™ palm rejection capability.
Products based on GlidePoint technology, such as Alps' trackpads, have long supported industry standard protocols including PS/2, I2C, USB and SPI. Alps and Cirque's longtime support for these protocols ensures that GlidePoint products will be ready to support Windows 8.
Alps and Cirque will be demonstrating the NFC GlidePoint trackpad at CEATEC Japan 2011, booth number 8G64. See a video demonstration of this solution at: http://www.youtube.com/watch?v=Eo12Jxd0ox0
Cirque Corporation is the original developer of capacitive sensing technology and continues to function as a market leader in a variety of markets such as notebook computers, payment, industrial, automotive, medical and consumer electronics. To learn more about Cirque's wide range of capacitive touch solutions, visit http://www.cirque.com. Cirque is a wholly owned subsidiary of Alps Electric.
For the latest Cirque news, follow @CirqueCorp on Twitter.
Alps Electric is a leading global manufacturer of electronic devices, supplying some 40,000 components to over 2,000 companies worldwide. To learn more about Alps visit: http://www.alps.com
Cirque, GlidePoint, TouchGuard and all associated logos are trademarks of Cirque Corporation. The technologies described in this release are protected by patents and patents pending.
Alps is a trademark of Alps Electric Co., Ltd.
###