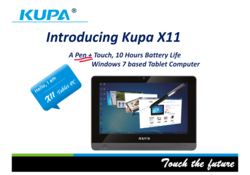 Kupa X11 can run Windows 8 smoothly: the ease of installation, and the speed of operation simply impress users.
Santa Monica, CA (PRWEB) September 16, 2011
In response to hundreds of user inquiry about Windows 8 upgradability of its latest X11 pen + touch tablet computer, Kupa tested X11 with Windows 8 Develop Preview edition released earlier this week and posted a walkthrough video on its YouTube channel. Kupa America representative Mark Peng said that Kupa felt a video response showing X11 running Windows 8 would help answering X11 fans question and be a public service to all the mobile technology enthusiasts as well.
The results of X11 Windows 8 are:
Kupa X11 can run Windows 8 smoothly: the ease of installation, and the speed of operation simply impress users.
Running Windows 8 Preview on X11 demonstrated Microsoft's dedication to the tablet computer and touch panel technology. The fact that Windows 8 offers touch control at the installation screen when booting up from DVD speaks volume. Kupa engineers prepared USB keyboard and mouse for the installation and was never needed. Viewer Could hear the engineer gushed about his amazement during the video.
Microsoft Windows 8 preview offers streamlined and updated interface that is perfect for tablet computer such as Kupa X11. The shutdown function is a bit harder to find now that it is moved but Kupa engineer found out and shared its location toward to the end of the video
Kupa X11 is the next generation Windows based table PC with pen + touch dual input system, 10 hours battery life and many unique features that are not found in current tablet computers:
Pen + Touch Input System with pen is the sensitive to different levels of pressure
10 hours continuous operation and 30 days standby battery life with a single charge
Robust , and energy efficient operation with thin and light profile result from solid state design
128GB SSD is the largest storage option of any tablet computer
Wi-Fi, 3G, Bluetooth, USB and mini HDMI offers full connectivity, wireless or wired
Dual cameras: Front 2MP / Rear 5MP
Enterprise security features such as fingerprint scanner and Trusted Platform Module
Dual antenna design for Wi-Fi, and 3G maximum signal strength
X11 is available for preorder now. Please visit us at http://www.kupaworld.com or email us at info.us(at)kupaworld(dot)com for more details or questions.
KUPA is a computer hardware manufacturer with focus on mobile and green technology.
###