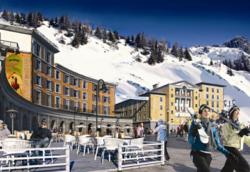 "Most of our company's hotels are primarily city or business hotels in large metropolises, and this will be our first ski resort", explains Meinhard Huck, President Swissôtel Hotels & Resorts
ZURICH (PRWEB) September 16, 2011
Swissôtel Hotels & Resorts already has a presence in Russia, having run the highly successful Swissôtel Krasnye Holmy, Moscow for many years, and soon guests will have the opportunity to stay in the hotel chain's first ski resort. "About 158 elegant rooms and suites, six penthouses, several restaurants and bars, as well as a Spa & Fitness Centre are planned for the new hotel," explains Meinhard Huck, President Swissôtel Hotels & Resorts. "Most of our company's hotels are primarily city or business hotels in large metropolises, and this will be our first ski resort. It's an exciting project, especially given that Krasnaya Polyana is going to be comparable in terms of infrastructure and atmosphere to the most famous mountain resorts in the Alps."
"Thanks to the efforts of the government, the participation of investors and the support of the largest banks in Russia, Sochi acquires the potential to become the first world class resort in Russia," commented Sergey Kovalevsky, General Manager NBB-Development. "NBB Development sees its global task in creating a modern, comfortable and safe environment for life and recreation in Russia."
"Our strategic partnership with Swissôtel Hotels & Resorts helps us to provide guests and visitors of Gorky-Gorod with high-level services which meet international resort standards both during the Olympic Games and especially in the post-Olympics period," added Yevgeny Kaplun, Deputy General Manager NBB-Development.
The modern year-round resort Gorky-Gorod is being built on the territory of Gornaya Karusel mountain resort in Krasnaya Polyana which occupies 863ha at 540m to 2200m above sea level. Gorky-Gorod comprises two ski villages, one at 540m and one at 960m. More than 740'000m of real estate for various purposes will be built in Gorky-Gorod. During the Olympics, Gorky-Gorod will host a mountain Olympic media village and submediacentre for over 4000 international journalists.
The future Swissôtel will be located on the central square of the upper village, right along the shopping street and only a few metres away from the most important skiing facilities. Guests will reach Gorky-Gorod via Sochi International Airport, which is a two-hour flight from Moscow and a three-hour flight from Vienna. The Resort will soon be connected from Sochi International Airport by a 30-minute fast train ride to Krasnaya Polyana. By 2014, Gorky-Gorod will become the center of the mountain resort in Krasnaya Polyana capable to host up to 50'000 guests every day and to accommodate about 12'000 persons at the same time.
Sochi with its territory of about 3400km is located on the eastern coast of the Black Sea in the southern Russian province of Krasnodar Krai region and attracts about 4 million holidaymakers a year from Russia and increasingly also from abroad. The warm climate and the scenic views over the snow-capped Caucasus mountains are the key attractions of the holiday resort, which is popular with prominent public figures. As there is snow in Krasnaya Polyana – just 40 km away – well into June, combining a beach holiday with the occasional skiing trip is easy. Krasnaya Polyana will be the venue for all outdoor events at the 2014 Winter Olympics, while all the indoor events will take place in Sochi city.
###