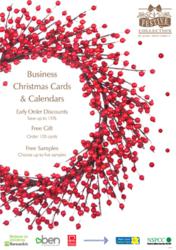 We continue to support charities with our great range of Christmas cards.
(PRWEB) September 18, 2011
Chester based Christmas Card supplier Festive Collection has announced the list of charity partners that they will be supporting with their 2011 Christmas card range. Specializing in personalized Christmas Cards, Festive Collection provides a wide range of cards for businesses and families to choose from. Every year they partner with a variety of charities in order to provide their customers with the opportunity to help a good cause. This year Festive Collection are partnering with six different charities with five pence from every card sold being donated. All details of their cards can be found on their website http://www.festivecollection.co.uk.
This year's list of partners includes well known charities such as The British Heart Foundation and the NSPCC as well as lesser known ones such as BEN, an automotive industry charity. "Our aim is to help make a difference at Christmas," states Steve Dedo, Marketing Director for Festive Collection. "This year we have partnered with a fantastic range of charities so that our customers have the chance to support a variety of good causes."
Customers can choose to donate to one specific charity from the list of partners; alternatively the donation can be split between all of the charities. To highlight the support customers are providing by buying from Festive Collection, an accreditation line and charity logos will be printed on the cards. With five pence from every card sold being donated, Festive Collection hopes to provide significant support to this year's chosen charities.
"At Christmas time it's even more important to provide for those who are less fortunate," says Steve Dedo. "The charities we at Festive Collection are partnering with cannot survive without continued financial support. Choosing to buy your Christmas cards from Festive Collection is a great way to make a difference and help those in need."
The full list of charities partnered with Festive Collection for the 2011 range is now available to view on their website, along with more information on each of the charities.
http://www.festivecollection.co.uk
Tel: 0800 616350
Fax: 0800 414041
###