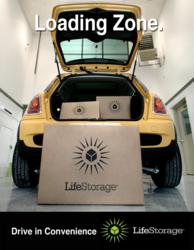 "We feel the new hours is just another small step towards our end goal to be the best storage provider. It was a natural progression and another way we're trying to give our clients the best service in the industry"
Chicago, IL (PRWEB) September 17, 2011
LifeStorage, Chicago self storage provider for home and business, is excited to announce the extension of its hours of operation. Beginning Sunday, September 18th, store hours will extend from 1pm-5pm to 9am-5pm. The new Sunday hours give customers increased store and office access on the weekends, providing better guest service and supply availability.
"LifeStorage is always working to stay ahead of the market and to offer our customers the best service possible. We're growing as a company and when we looked at our facilities, we decided to make the hours change to become more uniform on the weekends.," said Michelle Wight, LifeStorage district manager. "We feel the new hours is just another small step towards our end goal to be the best storage provider. It was a natural progression and another way we're trying to give our clients the best service in the industry."
LifeStorage's increased Sunday hours add to its regular weekday hours of 9am-6pm, Monday through Friday, and match Saturday's 9am-5pm hours. The hours change gives customers even more time now to consult with LifeStorage staff, while the expanded office and store hours provide customers a place to purchase packing and moving supplies and the use of dollies and carts. Customers also have increased access to their mailboxes.
LifeStorage also provides customers with some of the industry's best access hours, allowing customers admittance to their storage units 5am-11pm, 365 days a year, at all 17 Chicago-area locations. The increased hours of operation coupled with the expansive access hours provide customers the most value for their money.
"We try to set the standard when it comes to storage, and with our access hours, we think we've accomplished just that. Now we have the increased hours of operation as well.," said Wight. Each step LifeStorage takes is with the customer in mind.
###