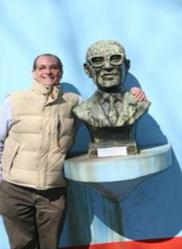 With my 18 years experience I am a great problem solver. Having produced shoots in half the states in the USA and a dozen countries around the world, I have become an expert on a multitude of things and all will now serve me well in this new venture!
(PRWEB) September 17, 2011
Elliot Abelson, former Senior Producer at Marge Casey Associates for the past 18 years, announces today the launch of a new locations and production services company – Waterside.
Featuring an original portfolio of six amazing properties and venues throughout the Tri State Area of NYC, Waterside will offer already vetted and tested prior to hire, superb locations for film makers, life-style photographers and other professionals needing that unique venue for their shoots.
Access points and owner liaison all taken care of by Waterside - who will remain on-site during each project to take care of every extra business issue along the way - allowing the client to make the most of their time on location and do what they are good at – create.
Other services that Waterside will be offering include: Full production services. Scouting, locations, permits, casting, travel arranging, hire all crew, catering, etc, and client comfort.
Elliot Abelson quotes: "With my 18 years experience I am a great problem solver. Having produced shoots in half the states in the USA and a dozen countries around the world, I have become an expert on a multitude of things and all will now serve me well in this new venture!"
###