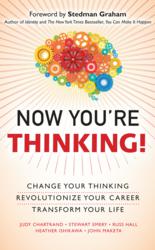 Bloomington, Minn. (PRWEB) September 19, 2011
Whether you're considering refinancing your home, wanting to improve your parenting or looking for a first job out of college, developing strong thinking skills is the linchpin to better decision-making. Today Pearson TalentLens unveiled a new book, Now You're Thinking!, designed to help people in all walks of life become better thinkers.
Developed as a primer on critical thinking, the new book begins with the story of a group of U.S. Marines who combine courage and perseverance with critical thinking skills to face unbelievable challenges and save the life of a two-year-old Iraqi girl. While most people won't face a challenge of that magnitude in their lifetime, the example demonstrates how the power of effective thinking can move mountains and help to conquer seemingly insurmountable challenges.
"We integrated an inspiring story, engaging learning techniques and a wealth of resources to develop Now You're Thinking!," said Judy Chartrand, Chief Scientist at Pearson TalentLens and one of the book's authors. "Intended as an introduction to critical thinking, our new book is designed as a jumping-off point for anyone interested in learning more about how to develop the thinking skills necessary to make better personal and professional decisions. We hope that the story of the brave Marines and the little Iraqi girl, Amenah, inspires readers to see the value of effective thinking skills."
Now You're Thinking! explores how the mind combines thoughts, feelings and dreams to guide decision-making, introduces seven different thinking styles and offers readers the opportunity to discover their personal thinking style by directing them to a free online assessment at http://www.ThinkWatson.com/MyThinkingStyles. Then the book guides the reader in developing a new way of thinking by introducing an easy-to-follow, five-step process for effective thinking.
Now You're Thinking! concludes with information about resources that will help readers extend their development of critical thinking skills with links to blogs on the topic, the free online assessment and other information about how to build strong thinking skills.
To celebrate the launch of Now You're Thinking!, Pearson Foundation will donate up to 30,000 hardcover or paperback books to nonprofit organizations serving military families for every children's book read online at We Give Books (wegivebooks.org) from September 12-30.
Published by FT Press, Now You're Thinking! is available from Amazon and Barnes & Noble online and retails for $22.99.
About the Authors
Judy Chartrand is a recognized thought leader in the areas of critical thinking and career development. She works as a Consulting Chief Scientist with Pearson. As a psychologist, Chartrand has helped hundreds of clients increase their personal and career satisfaction. She frequently speaks at national and international conferences and has published more than 50 articles and books.
Stewart Emery is coauthor of the international bestsellers Success Built to Last and Do You Matter?: How Great Design Will Make People Love Your Company. He has a lifetime of experience as an entrepreneur, creative director, corporate culture consultant and executive coach. He has led workshops and seminars and delivered keynotes all over the world.
Russ Hall is author of 14 books and coauthor of numerous other books. He has also had short stories, essays and articles published in a wide array of media and has received several awards.
Heather Ishikawa is the National Sales Director for Pearson TalentLens. Ishikawa has extensive experience in architecting corporatewide, assessment-based leadership development initiatives. She has delivered workshops to hundreds of leaders on the topics of critical thinking, leadership, teambuilding, communication and change management.
John Maketa is the Director of Strategic Partnerships for Pearson TalentLens. Maketa is a dynamic leader in enterprise growth, developing bold and creative strategic alliances that catapult global performance and profit. He is known throughout the learning and development industry as a major connector who is able to strategically align initiatives for parties on both sides of the table, with unparalleled financial and professional success.
About Pearson TalentLens
A business of the global leader in education and assessments, Pearson TalentLens has more than 80 years of experience in talent assessment and publishes many of the most popular assessment and training programs used by companies large and small to make hiring decisions and develop their 21st century workforce. Other resources featured on ThinkWatson.com, named for the company's Watson-Glaser™ Critical Thinking Appraisal, the industry standard in critical thinking assessment, include thought-provoking blogs and information about Pearson's RED Critical Thinking Model – Recognize Assumptions, Evaluate Arguments and Draw Conclusions.
For more information about Pearson TalentLens, visit http://www.talentlens.com, become a fan on Facebook at http://www.facebook.com/nowyourethinking or follow on Twitter at http://twitter.com/URThinking.
About Pearson
Pearson, the world's leading learning company, has global reach and market-leading businesses in education, business information and consumer publishing (NYSE: PSO). For more information about the Assessment & Information group of Pearson, visit http://www.pearsonassessments.com/.
For more information:
Adam Gaber, Pearson
800-745-8489 / adam.gaber(at)pearson.com / @apgaber (twitter)
###