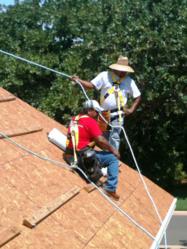 "While being OSHA compliant is important to us, of greater concern for Reroof America is the safety of our employees, sub contractors and our customers".
Edmond, OK (PRWEB) September 16, 2011
In preparation for the new OSHA (Operational Safety and Health Administration) Fall Protection Rule for residential construction which began, September 16, 2011. Reroof America Contractors has announced implementation of a revised process and new procedures to maximize employee and sub contractor job site safety.
The OSHA new rule no longer allows roofing contractors, like Reroof America, the use of slide guards as an acceptable alternative to "conventional" fall-arrest systems (guardrails, safety nets or personal fall-arrest systems) on roofs with slopes of 4:12 or greater and a fall potential of 6 feet or more, unless the employer can demonstrate conventional systems are either not feasible or create a greater hazard. That conclusion must be documented and include a written, site-specific fall protection plan.
The catalyst behind the changes in the OSHA rule is tied specifically to OSHA statistics on fatalities from falls. Roofing and residential construction has been one of the highest job site fatality rate jobs. In fact, falls accounted for more deaths than any of the other residential construction hazards. According to OSHA statistics, falls accounted for 34% of the construction fatalities in 2008 and 2009 … and 35% of the fatalities since 2005. "Reroof America believes its plans will help reverse these disturbing trends" said Mark Lenzer, Vice President of Reroof America.
"Reroof America's revised plan has three critical phases; education, job site implementation, and follow through", said Mr. Lenzer. "While being OSHA compliant is important to us, of greater concern for Reroof America is the safety of our employees, sub contractors and our customers".
The plan will focus on using OSHA and NRCA (National Roofing Contractor's Association) tools for training on fall protection, ladder safety and proper use of power tools. In addition to this training, all employees and sub contractors will receive a copy of the Reroof America Contractors Fall Protection Plan which outlines the steps we are asking our job site workers to take to assure a safe job site. Finally, our Spanish speaking sub contractors will all be equipped with encompassing safety guides written in Spanish to assure that safety requirements cross language barriers.
Under OSHA 29 CFR 1926.503, workers exposed to fall hazards must be trained to recognize potential fall hazards and in the procedures to be followed to minimize those hazards. 1926.21(b)(2) requires employers to train their workers how to recognize and avoid unsafe conditions; and, the applicable regulations to control or eliminate hazards in the work place.
To comply with OSHA requirements, Reroof America contractors training will cover; How to recognize and minimize fall hazards, How to use fall protection systems, How to inspect the systems, and will be documented and use the most current certification information available. Reroof America will also provide provisions to conduct retraining to correct less than satisfactory fall protection performance by workers.
These new rules require much more work and possibly additional costs to be in compliance for the roofing contractor, suppliers and sub-contractors. We are clarifying the any additional costs with our suppliers, the insurance industry and our customers since the likelihood that the fines incurred will be levied on the roofing contractor regardless of which party is guilty of an infraction. "It is important that everyone be on the same page with this new focus." said JR Emrich, President of Reroof America. "Safety is everyone's responsibility."
About Reroof America
Reroof America Corporation is owned and managed by J.R. Emrich, President. The company's began in the roofing industry in 1979. J.R. Emrich and his companies operate debt free and utilize multiple suppliers in several states. Bonding capability is up to 4 million dollars. The Dun and Bradstreet credit rating for the company is 1R2 and the D&B # is 83-696-7372.
Reroof America is based out of Edmond, OK, having completed over 60,000 roofs in over 15 states over the past 32 years.
Reroof America's primary business is residential roof replacement; however several locations have commercial divisions, window divisions and offer other residential construction solutions. Reroof America is fully licensed and insured in all states within which it operates, and is a member of NRCA, BBB and multiple local and regional associations.
For Information About Reroof America Contractors, Reroof America Corporation, Reroof America Management, or Metro Roofing, contact Mark Lenzer at: 405-330-5400 or mlenzer(at)reroofamerica(dot com) or follow reroofamerica on facebook.
# # #