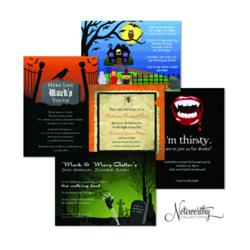 Cary, North Carolina (PRWEB) September 17, 2011
May the weak and wary be cautious…Noteworthy Collections has released over 65 brand new bloodcurdling Halloween party invitation designs into their 2011 fall invitation collection. Designers at Noteworthy Collections have been researching current invitational trends for the upcoming Halloween season and dark and eerie is the theme for Halloween 2011.
The brand new collection of Halloween party invitation designs was inspired by a current dark, gothic and vintage trend with retailers' customers preparing for the upcoming Halloween season. From antique frames to vintage emblems, contemporary silhouettes and piercing fall colors, Noteworthy Collections has encompassed the dark side of Halloween into their brand new fall designs. "This Halloween season it's all about letting go, being yourself and having fun on Halloween, whether your customers are celebrating a Halloween wedding, a Halloween party with friends or hosting a neighborhood trick-or-treating event with the kids," says Julie Deal, Lead Designer with Noteworthy Collections, "When creating Noteworthy Collections 2011 Halloween designs I was inspired by some of America's favorite current social trends from the media with Twilight and True Blood along with a long-standing Halloween passion for spine-chilling Halloween designs."
Noteworthy Collections brand new designs will give retailers a variety of choices for their customers to choose from when searching for the perfect Halloween invitation. The new Halloween designs will feature vampire teeth dripping in blood, murder mystery scenes, sultry silhouettes of skeletons and witches, voodoo dolls, crawling spiders, zombies crawling out of a grave, haunted houses and poisonous potions. Invitation designs are all digitally printed, meaning even the most popular of invitation designs are always in-stock. Designs are available with return address printing options, coordinating reply cards, return address labels and envelope liner options which allow customers to create a complete and coordinating Halloween ensemble.
The brand new Halloween party invitation designs are currently available to all retailers for purchase. Noteworthy Collections contemporary Halloween invitation designs are sure to lure a retailer's customers with their eerie, spooktacular Halloween designs this Halloween season.
About us: Noteworthy Collections is an artful designer, manufacturer, printer and fulfillment company of custom stationery, invitations, announcements, photo cards, self-inking Noteworthy Snap Stamps (with the revolutionary interchangeable face plate system) , note pads and gifts. Noteworthy also developed the first design-driven line of officially licensed collegiate stationery and gift products, Team Notes. Noteworthy Collections products are sold exclusively through fine retailers across the country.
Please visit: http://www.NoteworthyOnline.com
###