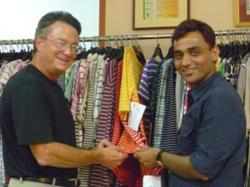 "Being green is not as costly as we expected, and we are actually saving money!" said NCC Apparel Division CEO Akhilesh Anand.
Los Angeles, CA (PRWEB) September 18, 2011
Tukatech Inc., Los Angeles-based provider of 2D/3D apparel software solutions, is pleased to announce that Network Clothing Company (NCC), one of India's most progressive knit clothing manufacturers, has implemented Tukatech's TUKAcad pattern making, pattern grading, and marker making program.
NCC, which produces 1.2 million knit garments each month for several industry leading United States and European brands, earned its reputation as a progressive clothing business through their dedication to employee satisfaction and green business practices.
The 17 year-old Tirupur based company is vertically integrated and institutes profit sharing programs for employees at all levels. Each employee in a particular project group is empowered to handle any issues that arise, and employees serve on elected committee groups to make decisions on behalf of the company's workforce. "The only time I get involved is if they have a machinery issue or a large purchase needs to be made. Otherwise, I rarely hear about a project other than when it has started and when it has finished!" says Apparel Division CEO Akhilesh Anand.
"The management philosophy of empowering the employees to control their own production projects is extremely innovative and forward thinking," said Tukatech Director Brad Whiteley. "Companies worldwide can learn from NCC's progressive and visionary thinking."
In addition to their innovative labor practices, NCC is striving to make their garment operation environmentally friendly. The company built a wind power generator in Tirupur, and produces so much electricity that they sell power back to India's grid. NCC has also instituted an aggressive waste reclamation program. The company recycles their fabric scraps and reconstitutes them into usable material. "We will apply for our Green Certificate later this year", says Akhilesh, "Being green is not as costly as we expected, and we are actually saving money!"
It is this type of progressive thinking that led NCC to utilize Tukatech's TUKAcad pattern making, grading, and marking systems. Akhilesh says that by using TUKAcad, which allows pattern makers to create patterns digitally, the company is using less material in the preliminary design and marking process, thereby reducing a significant amount of waste.
Akhilesh continues, "With the old systems we were still making patterns manually, then digitizing them into the systems. TUKAcad allows us to make the first pattern off of established graded blocks in system, eliminating digitizing and grading!" He says that TUKAcad is helping the company increase the number of products that are designed in-house, which will increase efficiency and yield tremendous savings.
NCC further reduced wasted fabric by switching to Tukatech's SmartMark automatic marker optimization program, a module for TUKAcad that further optimizes the efficiency of markers. "The installation of Tukatech's SmartMark eliminated manual marker making and saving NCC on average 3% in fabric costs per style. "Our payback for the entire system is less than two months just from money saved in fabric utilization," says Akhilesh.
"Great technology is out there right now," says Akhilesh. "Whether it is apparel development solutions like Tukatech, or self-electrical power generation and waste reclamation, NCC is doing our best to be good corporate citizens and neighbors."
Network Clothing Company
NCC is one of the leading manufacturers of knitted garments in Tirupur, the Knit City of South India. NCC is committed to the delivery of quality products meeting required standards and specifications backed by the state-of-the-art infrastructure and skilled workforce. For more information, visit http://www.nccindia.com/
Tukatech, Inc.
Tukatech is a Los Angeles-based company that provides pattern making, grading and marker making software, 3D apparel prototyping systems and manufacturing equipment. It also provides web-based product development services and PDM/PLM systems, supported by brick and mortar centers strategically located in garment hubs worldwide. With over 10,000 systems installed, and 3,400 competitive systems replaced, Tukatech is the fastest growing garment CAD/CAM company in the world. Tukatech has been ranked by Apparel Magazine as the #1 Apparel software company in the world. For more information, visit http://www.tukatech.com
###