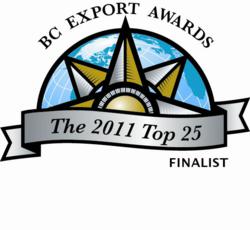 "I want to offer my congratulations to this year's finalists, all of whom have helped drive B.C.'s export growth," said Pat Bell, Minister of Jobs, Tourism and Innovation.
VANCOUVER, B.C. (PRWEB) September 21, 2011
Canadian Manufacturers & Exporters (CME) BC Division and the Ministry of Jobs, Tourism and Innovation announced B.C.'s Top Exporters for 2011.
"We are pleased to announce this year's finalists," said Peter Jeffrey, Vice President, CME B.C. "This year's selection process was considerably challenging. We received more than 500 nominations from around the province this year, the most we have ever had."
"I want to offer my congratulations to year's finalists, all of whom have helped drive B.C.'s export growth," said Pat Bell, Minister of Jobs, Tourism and Innovation. "These companies, regardless if they're established players or up-and-comers, are proof that exporting leads to success. The ability to export our products is key in building B.C.'s economy and the Province will continue to assist our companies connect to opportunities in international markets."
This year's Top Finalists are:
Advancing Technologies

Avigilon, Vancouver
MDA, Richmond
STEMCELL Technologies, Vancouver
Consumer Products

Arc'teryx Equipment, North Vancouver
Coast Spas Manufacturing, Langley
ParetoLogic Inc, Victoria
Manufactured Products

SEI Industries Ltd, Delta
Unifiller Systems Inc, Delta
Viking Air Ltd, Sidney
New Exporter

Anodyne Electronics Manufacturing Corp, Kelowna
Conifex Timber Inc,Vancouver
Hootsuite Media Inc, Vancouver
New Media

Arcana Studio Inc, Burnaby
Nerd Corps Entertainment Inc, Vancouver
Neverblue, Victoria
Primary Products & Services

Canfor Pulp Limited Partnership, Vancouver
Coast Clear Wood Ltd, Surrey
Tolko Industries Ltd, Vernon
Professional & Services

Gemcom Software International, Vancouver
Klohn Crippen Berger, Vancouver
MTU Maintenance Canada Ltd Richmond
Sustainability

ABC Recycling Ltd, Burnaby
Archipelago Marine Research Ltd, Victoria
Dr. Battery, Richmond
Northern BC Exporter

Coast Tsimshian Resources LP, Terrace
Conifex Timber Inc, Vancouver
Kyahwood Forest Products, Smithers
B.C.'s top business leaders and government officials will be in attendance at the 29th annual gala luncheon to celebrate the announcement of the winners from the nine business categories and name the 2011 Exporter of the Year, the Leadership Award winner and the International Business Studies Award winner. This year's B.C. Export Awards Gala will take place on October 28, at the Hyatt Regency in Vancouver. For more information visit http://www.bcexportawards.com.
About the B.C. Export Awards
The B.C. Export Awards is the longest running ceremony of its kind in Canada, and celebrates the valuable role that the export industry plays in the B.C. economy. The awards are co-hosted annually by CME and the Provincial Government of B.C. They are open to all B.C. companies that have been exporting a product or service for two or more years. Companies are either nominated or self apply for the awards. The Top 3 firms in each category are chosen by an independent panel of judges, selected by the co-hosts and the sponsors for their background, experience and objectivity. Since inception in 1982, the B.C. Export Awards has recognized the achievements of more than 335 BC exporters.
Sponsors of this year's awards include RBC Financial Group, Export Development Canada, Initiatives Prince George, Prince George Airport Authority, Prince Rupert Port Authority, CN Rail, The Eyes Television Production Ltd., Air Canada Cargo, BCIT, KPMG, PricewaterhouseCoopers, UPS Canada, Syspro, Fireworks Marketing Group, Hyatt Regency Vancouver, International Financial Centre British Columbia, British Columbia Council for International Education (BCCIE), Business Development Bank of Canada (BDC), BC Hydro Power Smart and WorkSafeBC.
For more information visit http://www.bcexportawards.com
###