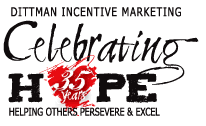 Dittman is very excited to be participating with these exceptional charities in NJ.
New Brunswick, NJ (PRWEB) September 19, 2011
Introduced in 2009, the Yankees' HOPE Week initiative (Helping Others Persevere & Excel) is rooted in the fundamental belief that acts of goodwill provide hope and encouragement to more than just the recipient of the gesture. Dittman Incentive Marketing, admiring the Yankee's HOPE Week initiative, received permission to duplicate the model to mark the 35 Year Anniversary of Dittman Incentive Marketing.
Like the Yankees, each day during HOPE Week, Dittman Incentive Marketing employees will reach out to a non-profit organization to provide recognition and support. Outreach often takes place outside the office, so as to personally connect with people in the location and settings that honor the spirit of charitable endeavors.
Says NY Yankees Director of Communications and Media Relations Jason Zillo, "HOPE Week is an initiative meant to inspire others, and it is very fulfilling for the New York Yankees to see businesses carrying on the tradition. We know that the Dittman team-mates will get as much gratification from their efforts as our players do."
By involving every one of the Dittman team during HOPE Week, Dittman hopes this helps send the message that everyone can give to make a better community.
Equally significant during HOPE Week is spotlighting worthy organizations. The greatest challenge facing many not-for-profits is generating interest, awareness, and funding, particularly during times of economic turmoil.
35 Year Celebration… Dittman HOPE Week
Dittman's team is as diverse as the corporate clients, and Dittman's 35 Year Celebration is in keeping with the corporate vision: "To help people and organizations exceed their own expectations."
Dittman has taken this celebration to a very personal level this year, selecting five New Jersey-based charities that focus on children and families in need. Dittman Team Members are excited about participating in HOPE Week and have all signed up for a day of service, some asking to do more than one day:

From a small soup kitchen serving meals to moving people out of poverty, Elijah's Promise uses food as a tool to feed people, train people and employ people in the work of ending hunger.
Healing the Children New Jersey
Healing the Children® New Jersey provides life-changing medical care for poor children at home in the United States and throughout the world.
Big Brothers Big Sisters Monmouth & Middlesex Counties
Provides children facing adversity with strong and enduring, professionally supported 1:1 relationships that change lives for the better, forever.
NJ SEEDS prepares academically talented, financially limited youth for success at competitive secondary schools.
Ronald McDonald House New Brunswick
Ronald McDonald House provides support for families of ill children receiving treatment in area hospitals. By providing a "home away from home," Ronald McDonald House helps families remain together during a critical and stressful time.
Comments Jim Dittman, President of Dittman Incentive Marketing, "We are very excited to be participating with these exceptional charities in NJ. Our team selected charities that were a part of the local community and had personal meaning. We are hoping to make a real and meaningful difference."
About Dittman Incentive Marketing
Dittman Incentive Marketing is a leading provider of incentives, rewards and recognitions programs using online software (SaaS) to help companies realize immediate ROI in motivating sales people, employees, channel partners, and customers. Our solutions include: TotalPRO® - recognition and rewards solution includes modules for peer-to-peer and manager recognition, sales incentives, referral programs, service awards, bright ideas, safety, and wellness; Great Escapes™ - individual travel incentives for sales incentives and contests with over 130 destinations; and Great Rewards™ - individual name-brand merchandise rewards. Dittman Incentive Marketing is a founding trustee of the People Performance Forum at Northwestern University and the Enterprise Engagement Alliance. For information: web http://www.dittmanincentives.com; Facebook http://www.facebook.com/dittmanincentives.
# # #