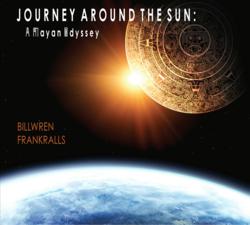 Let Bill and Frank take you on a journey through time and space...navigating the secret waters of ancient Mayan prophesies surrounding 2012.
(PRWEB) September 23, 2011
JOURNEY AROUND THE SUN: A MAYAN ODYSSEY the #1 new album by BILL WREN & FRANK RALLS
available now on iTUNES & AMAZON.com
"Journey Around The Sun: A Mayan Odyssey" (released Aug 3, 2011) is the follow-up to the Bill Wren and Frank Ralls 2008 debut "One Day in a Life" (which hit #1 on FM new age music radio stations around the US in 2010, and was picked up by Sirius XM satellite radio). Not to be outdone, the new "Journey Around The Sun" has also just hit #1 on FM new age radio for the month of August, 2011 (zonemusicreporter.com) and is currently being played on Sirius XM satellite radio.
The new album was inspired by Wren's fascination with the Mayan civilization and its 2012 prophecy. It is a concept album centered on a voyage of exploration and discovery - a soundtrack of sorts - with a broad range of world music influences. Much of the music has a big cinematic sweep and is very visual.
Wren and Ralls invited some very talented guests to the project including:

Disney Orchestrator Terry Winch
Yanni Vocalist Michelle Amato
Concertmaster (Jacksonville Symphony) Philip Pan
Acclaimed Jazz Composer Ike Sturm
Acclaimed Guitarist Sandy Williams
Acclaimed Cellist Nick Curry
____________________________________________
"...the sound quality is superb - crystal-clear yet very warm. It is no surprise that the album has already hit #1 on ZoneMusicReporter.com." -Kathy Parsons (MainlyPiano.com)
"...the 14 tracks on the CD retain the duo's winning ways with an abundance of the same warm, accessible melodies which made their debut such a critical success." -Bill Binkelman (Zone Music Reporter and New Age Retailer magazine)
…"each instrumentalist is at the peak of his or her powers, beautifully complementing each other without overshadowing each other and yet maintaining his or her unique talents. All of this comes together seamlessly under the creative and technical guidance of Wren and Ralls." Raj Manoharan (New Age Reviewer: rajmanreviews.blogspot.com)
http://www.facebook.com/billwrenfrankrallsmusic
http://www.twitter.com/wrenrallsmusic
PICK UP THE ALBUM RIGHT HERE ON THIS PAGE! (below)
###