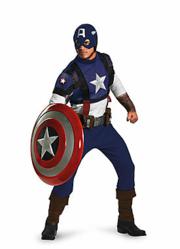 With the popularity of superhero movies over the summer, superheroes will be one of the biggest Halloween costumes this year.
Lenexa, KS (PRWEB) September 19, 2011
Every year there are certain costumes that everybody wants to wear, and 2011 is proving no different. This year, blockbuster movies and television shows are dictating what the most popular costumes will be on Halloween.
"Any time you have a summer with as many movie blockbusters as this previous one had, you're going to see a big influence in what the popular Halloween costumes are," says Greg Likens, president of CostumeHub.com, a premier online Halloween costume retailer.
Likens says the CostumeHub.com buyers predict the top Halloween costume of 2011 will include:
— Superheroes: With the popularity of superhero movies over the summer, and the excitement over the newest Batman film, superhero costumes will be big this Halloween. Expect to see a lot of trick-or-treaters in Thor, Captain America, Green Lantern and retro-styled X-men costumes. People can recruit their friends and family to form their own Justice League or team of Avengers.
— Kids movie characters: From Harry Potter to Cars 2 to The Smurfs, expect the kids to want to dress up like one of their favorite movie characters. This is great for families that want to dress up together, whether it be Dad as Papa Smurf, Mom as Smurfette and the kids as their favorite Smurfs, or having all the kids dress like their favorite characters from Kung Fu Panda.
— Vampires & zombies: Still riding the previous years' wave of popularity from "True Blood" and "Twilight" the vampire costumes trend shows no sign of slowing, particularly with the final installment of the "Twilight" film series scheduled to be released in October. And zombies are seeing a resurgence of popularity thanks to AMC's hit television show "Walking Dead." It seems the undead are more alive than ever, at least when it comes to Halloween costumes.
Wendy McMillian, merchandise manager for CostumeHub.com, also says that some of 2010's hot costumes will be making a comeback this Halloween. Among them are the cast of Jersey Shore, Glee and Lady Gaga. Lady Gaga's alter-ego, Joe Calderone who made his first appearance recently at the MTV Video Music Awards, has also become a costume favorite for this year.
Costume Hub offers a variety of superhero, movie and cartoon character, vampire and zombie costumes for men, women, children, couples and even pets. Styles range from traditional to sexy to scary. Visit CostumeHub.com to see the entire collection of hot Halloween costumes for 2011.
Established in 1991, CostumeHub.com has grown to become one of the most popular and premier online costume retailers. CostumeHub.com offers costumes, accessories, wigs and makeup for adults, children, couples and even pets, guaranteeing high quality at an affordable price. At Costume Hub, it's always Halloween!
###