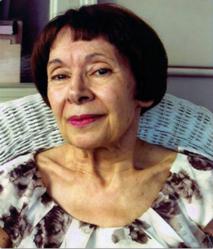 Billy gave so much of himself to his audiences around the world, that I felt I had to do my part to keep his legacy alive.
Washington, DC (PRWEB) September 17, 2011
Prince George's County resident, Renatta DeBlase, is pulling back the curtain on her time behind the scenes working with jazz legends including Duke Ellington and Billy Taylor during the racially charged 1960's in her audio book and ebook "WITH STARS IN MY EYES". Released in May of this year, the audio version of WITH STARS IN MY EYES is narrated with warmth by the author, now a retired veteran of both the music and publishing industry based in Washington DC.
In the late 1960's, Deblase was a young white college student from the suburbs who fell in love with the uniquely African-American music emanating from the hip jazz clubs of New York. Soon, she was a valued insider in that world, fighting to bring the music of jazz pianist Billy Taylor and the hugely influential Duke Ellington to audiences, no matter what the color.
"As Washington welcomes the new Martin Luther King Jr. Memorial, people everywhere are reflecting upon the nation's turbulent racial history, Dr. King's contributions to the civil rights movement, and life under segregation. The timing seemed perfect for this look back," said DeBlase. "Sometimes, these events seem like yesterday to me."
Along the way, Renatta DeBlase faced prejudice from both white and black audiences, music executives, and concert industry insiders -- all the while developing close working relationships with music legends including Ellington and Taylor. She sees Martin Luther King, Jr. as a major influence behind her civil rights work as a university student, a publishing professional, tutor to minority children, and jazz insider.
"After the passing of Billy Taylor, I read a quote from him that he was very concerned that he wouldn't be remembered for his contribution to music. I just couldn't let that happen; Billy gave so much of himself to his audiences around the world, that I felt I had to do my part to keep his legacy alive," said Ms. DeBlase.
Renatta DeBlase has recently appeared on "Morning Edition" WNCW Ashville NC, in Washington DC's Street Sense, and on Jassed.com. All proceeds from the sale of WITH STARS IN MY EYES will be donated to the Duke Ellington School of the Arts in Washington, DC. Founded in 1974, it is the only DC public high school that provides professional arts training and college preparation to talented public school students.
To request an interview with Renatta DeBlase, contact Rebecca Fuentes at Rebecca(at)allenmediastrategies(dot)com or (703) 589-8960.
###