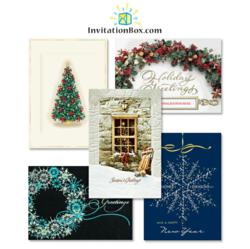 Cary, North Carolina (PRWEB) September 18, 2011
The cooler weather is a firm reminder that the holiday season is just a few festive months ahead. Preparing for the upcoming holiday season, InvitationBox.com, one of the Internet's leading online invitation and stationery retailers, has introduced over 700 brand new holiday greeting card designs to the Birchcraft Studios holiday greeting card collection.
InvitationBox.com offers products from over thirty different manufacturers, with Birchcraft Studios hosting one of the largest collections of holiday greeting cards. Birchcraft Studios' holiday card designs incorporate greeting card styles for a variety of holidays including Thanksgiving greeting cards, fall greeting cards, Hanukkah greeting cards, Christmas greeting cards, religious greeting cards and New Years greeting cards which give customers the variety they need when celebrating their favorite holidays.
The 2011 Birchcraft Studios holiday greeting card designs include designs with famous paintings, striking photographs, famous cityscapes, winter scenes, global connections, patriotic themes and traditional holiday icons. "Each year Birchcraft Studios comes out with literally hundreds of holiday greeting card designs in an effort to keep designs fresh, current and innovative," says Derek Stockman, Vice President of InvitationBox.com, "Whether you're sending a heartfelt greeting card to family, a picturesque holiday card to friends or a traditional greeting card to neighbors there's a little something for everybody."
The holiday card collection from Birchcraft Studios also offers corporate holiday greeting card options for corporate customers sending out holiday cards to employees, clients, associates and global customers. "Reaching out to clients and associates during the holiday season is an essential business practice, especially with the state of the current economy," says Jon LaNasa, President of InvitationBox.com, "From business appreciation cards to cities and regions greeting cards, global & international greeting cards or occupational greeting cards, the Birchcraft Studios holiday card collection offers the perfect way to network while keeping business relationships open during the holiday season."
The Birchcraft Studios 2011 holiday collection of holiday cards is currently available for purchase for customers and will allow customers to customize their greeting card design with their choice of holiday greeting, signature or company logo. Each greeting card includes a coordinating lined envelope and choices for thermography or foil inks.
InvitationBox.com customers will find it easy to spread holiday cheer this holiday season with the festive Birchcraft Studios collection of holiday cards and Christmas greeting cards.
###