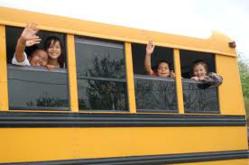 While injuries are a part of growing up, parents aren't always sure which treatment options are safe and effective for their children, especially given the side effects of many oral pain relievers.
Rhinebeck, NY (PRWEB) September 16, 2011
Kids are back in school, with a busy schedule that includes extra-curricular sports, playground fun, and other activities. With kids spending lots of time outdoors, participating in leagues, and toting around heavy backpacks all day, strains, sprains, muscle pulls, and other mishaps are sure to follow. In fact, emergency rooms in the U.S. treat more than 9 million children each year for accidental injuries.
While injuries are a part of growing up, parents aren't always sure which treatment options are safe and effective for their children, especially given the side effects of many oral pain relievers and the allergic reactions many kids have to smelly, greasy topical ointments.
The potential of overdosing a child using oral pain medication can cause dire consequences—including irreparable damage to the kidneys and liver. The massive number of ongoing recalls of pediatric over-the-counter (OTC) medicines this year is further cause for alarm—especially those containing the active ingredients acetaminophen and ibuprofen. Topical OTC analgesic ointments are also cause for concern, containing volatile oils such as camphor, menthol, and other irritating and potentially hazardous chemicals.
Lou Paradise, president and chief of research of Topical BioMedics, urges parents to consider the following safety tips to help protect their children from pain and injury and keep them out of the emergency room.
--Children should have a physical exam before participating in sports and always wear the proper protective equipment. Be sure your child stretches and warms up muscles prior to activity to help prevent injuries.
--Make sure backpacks fit properly and have padded backs and straps. Children should wear BOTH straps and only carry what is necessary to avoid any excess weight. A backpack should weigh no more than 5% - 10% of the child's body weight, and never hang more than 4" below the waistline.
--Clothing and shoes should fit properly. Loose clothes can catch in playground equipment, and properly fitted footwear minimizes the risk of falling or tripping.
--Small children should be supervised at the playground or while playing outside at home.
--Bullying is becoming epidemic. An adult should accompany younger children to the bus stop to avoid episodes of roughhousing.
Even with precautions, kids have accidents, and there are times when pain and injuries are unavoidable. Moreover, 25-40% of children aged 3-5 and 8-12 experience growing pains.
"Parents need to be armed with a safe, effective, and natural pain product made just for children, which is why I developed Topricin Junior Pain Relief and Healing Cream," says Paradise. "Formulated with 13 natural biomedicines, Topricin Junior supports and assists the body in the healing process to help reduce inflammation, detoxify and stimulate blood flow that increases oxygenation of the skin to speed healing and relieve aches and pains. I've used Topricin on my own children, and they now use it on my grandchildren."
Topricin Junior has no side effects, no odor, no parabens, no petroleum, and no harsh chemicals. Some of its key actives include arnica for injuries and bruising to the muscles and joints, echinacea to help reduce inflammation and graphite for most skin conditions. "In fact, Topricin Junior has been effective in treating eczema and other skin issues," says Paradise.
Winner of the Parent Tested/Parent Approved (PTPA™) Seal of Approval, and designated a Trusted Partner with Healthy Child Healthy World in its continued effort to empower parents in creating healthier, safer environments for children, Topricin Junior is a safe, natural alternative to over-the-counter chemical-based pain pills which can have dangerous side effects.
Topricin Junior comes in a convenient, portable tube for keeping on hand at sporting events and playgrounds, as well as in the car glove compartment and bathroom medicine cabinet. Also available is the Topricin Junior "Boo Boos Happen" first aid kit, with "Ouchies" boutique design-your-own colored adhesive bandages and marker in a recyclable zippered bag. Five percent of the sales of Topricin Junior are donated to pediatric cancer care. For more information, visit http://www.topricinkids.com.
About Topical BioMedics
Founded in 1994 and headquartered in Rhinebeck, NY, Topical BioMedics, Inc., is the research and development leader in topical regulated natural medicines for pain relief. The company's family of products includes classic Topricin, Topricin Foot Therapy Cream that addresses painful foot and ankle ailments and conditions, and Topricin Junior for children, which won the Parent Tested/Parent Approved (PTPA™) Seal of Approval and is a designated Trusted Partner of Healthy Child Healthy World, a non-profit organization dedicated to creating healthier, safer environments for children. All Topricin products are formulated with approved medicines as found in the HPUS (Homeopathic Pharmacopoeia of the United States) and are in compliance with FDA rules for homeopathic over-the-counter medicines. The product is also patented for the treatment of pain associated with fibromyalgia and neuropathy and is safe for pregnant and nursing women and diabetics. Doctors and pharmacists can find more information about Topricin in the 2010 edition of the Physicians' Desk Reference (PDR).
Topricin is available in pharmacies, natural food stores and other fine retailers nationwide, including Whole Foods, Vitamin Shoppe, Vitamin World, Fred Meyer, Wegmans, and other retail stores throughout the U.S., as well as direct from the Topical BioMedics' online store http://www.topricin.com
###