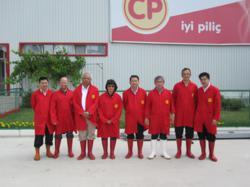 I am confident that this project will give CP-Turkey an added advantage over our competitors and help grow our presence in Turkey and internationally
Conway, AR (PRWEB) September 22, 2011
CP-Turkey, a leader in agro-industry and foods, has chosen to implement CAT²'s software suites to manage their four poultry processing plants. CP-Turkey was looking for a solution to replace their current COBOL system and gain the tools they needed to grow their international presence. CAT²'s applications will manage their entire process, from receiving live birds at the processing plant to shipping finished product to their customer. Data and reports generated from CAT² systems will be leveraged to improve inventory management and yields and provide comprehensive farm-to-fork traceability.
CP is one of the world's largest animal feed producers, whose ultimate vision is to become the "Kitchen of the World." Their poultry, swine, and agricultural businesses were formed through strategic partnerships with leading international livestock organizations over 30 years ago. Today, their operations enable them to breed various livestock, operate farming systems, process meat, and conduct mass food production in commodity and value-added forms for both local and international consumption. The company produces 23.2 million tons annually, with operations in more than 40 countries.
"First, on behalf of our implementation team, I would like to thank everyone involved for getting this new project underway. CP-Turkey was looking for a solution that would allow us to track inventory in real time, generate yield reports that would help improve our efficiencies, facilitate production costing, as well as give us the ability to track our inventory from farm to finished product. CAT²'s suite of software was the solution we were looking for. I look forward to seeing this project completed and CP-Turkey fully realizing the benefits of using CAT²'s software solution. I am confident that this project will give CP-Turkey an added advantage over our competitors and help grow our presence in Turkey and internationally," said Ms. Phanpaka Siriaungkul, Vice President of IT for CP-Turkey/Russia.
Stefan Schoeman, Vice President of CAT² responded, "CP-Turkey's dedication to keeping their operations at the forefront of the food industry is apparent throughout their facilities. After installing CAT² software suites, CP-Turkey will be able to offer industry-leading product traceability to their customers, while gaining significant improvements in efficiencies. This will give CP-Turkey the boost they need to meet or exceed both government and international requirements and aid their efforts to become BRC certified. We are very excited about this opportunity to work with CP-Turkey and provide them with the tools their company needs for continual growth and excellence."
About CAT²
CAT² specializes in innovative software solutions for the food industry, including real-time data collection on the plant floor, real-time reporting for production and inventory, and farm-to-fork traceability. We provide custom solutions that are efficient, increase yield and throughput, and measurably reduce costs. Most importantly, our solutions are specifically designed for the food industry.
For more information visit CAT² please call 501-328-9178 or visit http://www.catsquared.com.
###