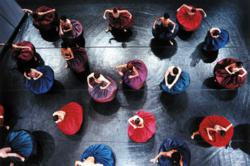 Bordeaux (PRWEB) septembre 16, 2011
Le ballet de l'Opéra National de Bordeaux interprète deux ballets de Mauricio Wainrot. 10 représentations du 18 au 28 octobre 2011.
S'emparant de Carmina Burana, l'une des oeuvres chorales les plus célèbres du XXe siècle, Mauricio Wainrot (directeur artistique du Ballet Contemporáneo du théâtre San Martin de Buenos Aires, invité permanent du Ballet Royal des Flandres) chorégraphie les caprices de l'amour avec un mélange d'humour noir et d'appétit de vivre. Son oeuvre, exubérante et puissamment théâtrale, évoque également les caprices de la nature et la force du destin.
La chorégraphie conçue sur la cantate scénique composée par Carl Orff en 1935-1936 sera précédée de « Chopin numero uno », une petite forme pour 8 couples de danseurs, hommage poétique à l'un des plus grands compositeurs du siècle romantique (Production Opéra National de Bordeaux).
Contact média
Julia Lagoardette & Noëlle Arnault
05 56 79 70 53
agence(arobase)canal(tiret)com(point)eu
This is a test release that we have published for product development to test PRWeb France. The content was added from the Datapresse network.
###