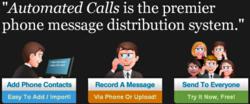 Jupiter, FL (PRWEB) September 16, 2011
AutomatedCalls.com knows that the upcoming 2012 elections will be a huge event and they are offering politicians robocalls at an extremely low cost.
Political figures such as our current president, Barack Obama, are no stranger to robocalls and their benefits. The candidates running in the upcoming 2012 elections, which includes the President of the United States, are already gearing up and AutomatedCalls is there to help them win their campaigns.
Since their inception, robocalls have become a staple in political campaigns and there are a sleuth of different providers available now. AutomatedCalls.com strives to offer the lowest prices around and have perhaps the best deal when it comes to buying political calls in bulk.
"The 2012 elections are going to be a major event for the country and by offering the lowest prices around, we hope to encourage politicians and campaign managers to use our mass notification system to help them win" says Rusty W.
If you are a political figure who is still on the fence about using robocalls for the upcoming 2012 elections, check out AutomatedCalls as their newly reduced prices look to be the best bang for your buck when it comes to calling millions of potential voters.
About AutomatedCalls
AutomatedCalls.com was founded in 2011 and is quickly becoming one of the best robocall providers available. The company continues to grow and their extremely low prices have caught the attention of many political figures. While they may be fairly new to the voice broadcasting game, their parent company has been in the business for over 10 years – this is how they are able to offer such great pricing.
For more information, please visit http://www.automatedcalls.com or call 888.550.3021. You can also email support(at)automatedcalls(dot)com for additional information.
###