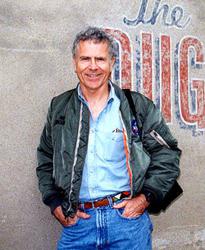 Coalwood, W.V. (PRWEB) September 19, 2011
"Coal" debuted to huge fanfare and ratings in March 2011, delving into the world of coal mining and the miner's lives in and out of the mine. The show is based on the real life mining operations taking place at Cobalt Coal's Westchester Mine just down the road from Coalwood in McDowell County, West Virginia.
On the series, real life miners are followed throughout their workday, revealing the trials, tribulations and benefits of working as a coal miner in West Virginia. "The 'Coal' reality series gives a human face to the hard working folks in the coal industry, and we're very proud to have them as a part of this year's October Sky Festival," said Hickam, whose story has been inexorably linked to the West Virginia coal industry. Hickam's "Coalwood" trilogy of books were set in and around coal mining, and his novel "Red Helmet" featured a story set in a modern day West Virginia mine.
Hickam says he is a fan of the "Coal" series, and Colbalt CEO and series star Mike Crowder says the feeling is mutual "ten fold". "We're really excited to participate in The October Festival and grateful that Homer wants recognize our guys."
Previous years VIP guests have included "October Sky" cast members Scott Miles (Jim Hickam) , Natalie Canerday (Elsie Hickam) and Randy Stripling (Leon Bolden) along with NASA Shuttle astronauts Thomas Jones and Bill Readdy.
Rocket Boys Roy Lee Cooke, Billy Rose, O'Dell Carroll and Hickam will also gather for the October Sky Festival in their hometown of Coalwood WV, where they'll join the "Coal" TV show cast members in mingling with attendees, posing for photos and signing autographs throughout the day.
Cast members from "Rocket Boys The Musical" are also expected to attend. The musical adaption of Hickam's memoir recently completed a very well received two week run with Theatre West Virginia, and is being prepped for Broadway.
Coalwood is located in the beautiful, rugged mountains of southern West Virginia. Many of the structures from 1950s-era Coalwood, which were pivotal to the book and movie, are still standing, including the massive miner's clubhouse, Hickam's boyhood home and the machine shop where Hickam and the boys received help from local mine machinists in building their rockets.
This year's festival will include a kickoff parade featuring Hickam, the Rocket Boys, cast members from "Coal", Dreama Denver, wife of late "Gilligan's Island" star Bob Denver, and others, rocket launches by student groups from across the USA at Cape Coalwood, the Bluestone Classic Car Show, the Coal Museum, a Coalwood school reunion, guided trolley tours of Coalwood, and kids' activities in and around Cassell Park (the official Coalwood Rocket Boys playground, which features a replica of a NASA shuttle).
The October Sky Festival always includes delicious homemade cooking from Coalwoodians and a festive family atmosphere all day near the height of fall foliage in beautiful West Virginia.
Hickam and the other Rocket Boys will be signing copies of his best-selling books throughout the day in downtown Coalwood. Several other notable authors with ties to the area will be on site signing their books as well, including Ms. Denver, who returns for a fourth year to the festival. Ms. Denver will also host her popular radio show heard locally on 93.1FM in Princeton, WV and worldwide at http://www.littlebuddyradio.com from the festival.
In past years, thousands of fans from all over the country have converged on Coalwood for the festival, including busloads of students and fans eager to meet their heroes and see the locales featured in Hickam's "Coalwood" series of books "Rocket Boys", "The Coalwood Way", "Sky of Stone" and "We Are Not Afraid".
Hickam is also the author of several other best sellers including the "Josh Thurlow" three book series of WWII adventures, the space thriller "Back to the Moon", "Red Helmet," a fiction novel set in the modern-day West Virginia coalfields and "My Dream Of Stars", co-written with Anousheh Ansari and released in March of this year.
Hickam's books will be available for purchase at the festival, with proceeds benefitting the nonprofit Cape Coalwood Restoration Association, and are used to help fund the tiny town's youth activities and upkeep.
Opening ceremonies for the 2011 October Sky Festival begin at 10 a.m. Saturday, Oct. 1st 2011, on the clubhouse steps in Coalwood Main, and the festival continues until 6 p.m. Coalwood is located on W.Va. State Route 16, eight miles from the McDowell County seat of Welch and about an hour from the city of Bluefield.
Homer Hickam will be available for in-person media requests Thursday September 29th and Friday September 30th in Charleston, Huntington, Beckley and Bluefield WV and Saturday October 1st on site at the festival in Coalwood. Contact Rebecca Fuentes at (703) 589-8960 or email rebecca(at)allenmediastrategies(dot)com to request interviews or media credentials.
###