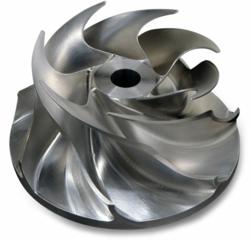 If you are a manufacturing professional in a demanding turbomachinery, power generation, aerospace or automotive industry position where complex bladed components present intense lead time, cost and quality challenges, then this is a must-attend event.
Sandviken, SWEDEN and White River Junction, Vt. (PRWEB) September 19, 2011
Today, two industry-leading companies, Sandvik Coromant(cutting tools) and Concepts NREC(CAM software), announced they will jointly host a complimentary one-day intensive machining seminar and user group event on October 31, 2011. The seminar and MAX-PAC™ CAM software users' group event will include a comprehensive presentation of MAX-PAC's latest features, where attendees will see its toolpaths in action at Sandvik Coromant on 5-axis machines. The event will be an unequaled opportunity for users to see live demonstrations while learning to significantly boost productivity and material removal rates and optimize tooling when machining complex bladed components such as impellers, blisks, rotors and compressors. The event will take place at Sandvik Coromant's state-of-the-art campus at Mossvagen 10 in Sandviken, Sweden. Meals, refreshments and transporation to and from hotels will be provided. CNC machinists, CNC programmers, manufacturing engineers and operations personnel are encouraged to attend.
"If you are a manufacturing professional in a demanding turbomachinery, power generation, aerospace or automotive industry position where complex bladed components present intense lead time, cost and quality challenges, then this is a must-attend event," says Paul Smith, Manager Business Segment Aerospace
of Sandvik Coromant. "And, with most costs covered by Sandvik Coromant and Concepts NREC, you really can't afford to miss this opportunity."
The seminar will include live machining of challenging bladed components in a 5-axis machining center along with classroom time and technical presentations.
Event attendees will:

Learn the latest features of MAX-PAC
Review MAX-PAC tips and tricks with software developers
Discuss future enhancements to MAX-PAC
See a demonstration of MAX-PAC's toolpaths on Sandvik Coromant 5-axis machines
Receive Sandvik Coromant tool selection tips and hints from its manufacturers
Hear user success stories and case studies
Tour the Sandvik Coromant facility
Meet and fraternize with other MAX-PAC users, as well as CAM experts from Sandvik and Concepts NREC
"This is everyone's chance to see and learn about Concepts NREC's best-of-class CAM software using special, patented algorithms and various milling styles on Sandvik Coromant's 5-axis machines," says Peter Klein, Director of CAM Software for Concepts NREC.
Concepts NREC was a pioneer in five-axis milling of impellers and blisks. Their specialized CAM system, MAX-PAC, embodies multiple patented technologies that no other software company is licensed to use, but Concepts NREC grants license to its software clients. These patents include an algorithm for highly accurate flank-milling that is essential for impeller milling and a method of collision avoidance that allows milling of the most complex pocket geometries, including shroud-integrated parts.
Sandvik Coromant and Concepts NREC employ an integrated approach to produce significantly faster stock removal rates, reduced tool expense, improved transitions and increased control and accuracy from roughing to finish.
Attendees will see the entire process from setting up components to the ease of planning tool paths/ programming and machining. Attendees will learn better strategies for more accurate flank milling and proper tool selection for smooth transitions and dramatically reduced tool costs.
The seminar is open to manufacturing professionals free of charge. It will begin at 8:30 a.m. with a light breakfast. Lunch and dinner also will be served. The event will end at 5:00 p.m., and attendees will be taken back to their hotels. Attendees need only cover airfare and hotel costs. For those arriving on Sunday, October 30, complimentary day and evening social events will be offered. Early registration is recommended. To register for the event, contact Lena Södercrantz, event coordinator, telephone: +46 26 26 62 30 or +46(0)70 20015 40, email: lena.sodercrantz(at)sandvik(dot)com.
About Sandvik Coromant
Sandvik Coromant is a world-leading supplier of cutting tools and tooling systems for the metalworking industry and is represented in 130 countries. Twenty-five state-of-the art productivity centers located around the world provide customers and staff with continuous training in tooling solutions and methods to increase productivity. Sandvik Coromant is part of the tooling business area of the Sandvik Group. Go to: http://www.coromant.sandvik.com.
About Concepts NREC
Concepts NREC is a leading worldwide organization providing turbomachinery design, engineering, manufacturing and CAE/CAM software, with a staff of 100+ professionals at its facilities in Wilder, Vt., and Woburn, Mass. For over half a century, Concepts NREC has provided manufacturers, users, government agencies and the engineering community with technology tools, services and products that have met their needs, helped achieve their goals, and aided in development and production of some of the world's most advanced products. Concepts NREC is headquartered at 217 Billings Farm Road, White River Junction, VT, 05001-9486. Telephone: 802-296-2321. Facsimile: 802-296-2325. For more information, go to: http://www.ConceptsNREC.com.
# # #