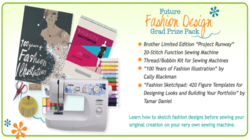 Los Angeles, CA (PRWEB) September 17, 2011
With only two weeks left in FIDM Fashion Club's annual Jumpstart Your Dreams Contest, entrants ages 14-18 focus on their futures as they submit collages depicting careers in design industries. Students compete for their chance to win prizes and shopping sprees. The contest deadline is September 30, 2011.
The prize packs include gift cards for shopping, and fun and functional items including a sewing machine, fashion and décor books, shoes, makeup, and perfume. See FIDM's FashionClub.com for a complete list of prizes and shopping sprees.
To enter, students must submit a short essay (150 words or less) along with a collage on 11x14 poster board that depicts their dream job in one of six design industries: Merchandise Marketing, Interior Design, Footwear Design, Textile Design, Fashion Design, and Beauty Industry Merchandising & Marketing.
For contest guidelines and how to enter, go to http://fashionclub.com/contest/jump-start-2011. Contest is open to people ages 14-18.
FashionClub.com reports on the hottest teen fashion and jewelry trends, runway looks,Lauren Conrad style, updo hairstyles, DIYs, dress for less and beauty trends like smokey eyes. The site hosts contests to win prizes and scholarships to attend FIDM. There's also fashion career information, interviews with leaders in the industry, and inspiring stories from fashion design students and famous FIDM alumni like Monique Lhuillier, and even a sketch school tutorial.
FashionClub.com is sponsored by FIDM/Fashion Institute of Design & Merchandising—a fabulous fashion college with campuses in four major cities in California: Los Angeles, Orange County, San Francisco, and San Diego.
###