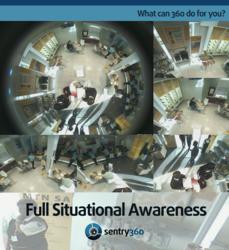 Plainfield, IL (PRWEB) September 19, 2011
Sentry360 the market leader in 360-degree immersive camera technology with full range of products ranging in resolutions from 1.3 to 10 megapixels, today announces an exciting integration partnership with Exacq Technologies.
Thomas Carnevale president of Sentry 360 says, "Our Company is in the midst of a break-out year coming off our highest sales month in company history for the month of August. The momentum we're experiencing with acceptance of our technology in this industry is at an all-time high and this new Partnership with Exacq comes at the perfect time to continue our growth."
"The Sentry360 integration with exacqVision brings a complete 360-degree IP camera solution to our current and future customers," notes Dave Underwood, president of Exacq Technologies. "With a product line that scales from 1.3 to 10 megapixels, they offer the kind of diversity to fit a unique, broad range of real world applications."
All of Sentry 360's CCD or CMOS image sensor fixed megapixel cameras and 360° immersive cameras are now supported in their new release 4.7 which is available to all existing Exacq Vision clients. Sentry 360 Security has an easy to use Application Programming Interface (API) for 3rd party Network Video Surveillance software companies for seamless integration.
"Since we've integrated Sentry360's dewarping process directly into the exacqVision VMS software," continues Underwood, "end-users can Pant-Tilt and Zoom in live or recorded video footage. They can also produce multiple live and recorded dewarped views from a single Sentry 360 camera—all from just one IP channel on the exacqVision client running on a Windows, Linux or Macintosh computer."
Exacq will be demonstrating the Sentry360 10 Megapixel 360 camera at the 2011 ASIS International Security Expo in Orlando Florida September 19-21 at booth number 3451.
About Exacq:
Exacq Technologies Inc., headquartered in Indianapolis, Indiana, is a leading developer of open architecture, Video Management System (VMS) solutions for security and surveillance applications. Our exacqVision VMS client-server solutions are scalable from a small single camera solution to large scale corporate or campus systems with thousands of cameras. Real-time and recorded video can be viewed, managed and configured from any location on the network. http://www.exacq.com
About Sentry 360:
Sentry 360 is a developer of application driven multi-megapixel network cameras Sentry 360 has two families of products: The FullSight™ is our 360-degree Immersive camera series with discreet mounting options to extreme temperature Vandal dome models ranging in resolution from 1280×1024 (1.3 megapixel) to 3856×2764 (10 megapixel). The InSight™ series has a vandal dome, miniature dome and box style models ranging in resolution from 1280×1024 (1.3 mega-pixel) CCD or CMOS to 3856×2764 (10 mega-pixel). Sentry 360's Less is More® system architecture it takes fewer cameras to buy, install, record and review while delivering more forensic detail and more situational awareness.
http://www.sentry360.com
###