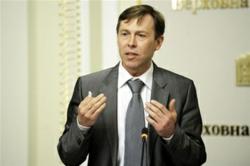 It will mark the end of all democratic development and place Ukraine firmly in the hands of Russia
(PRWEB) September 16, 2011
In an interview today with Democracy4us.org, Serhiy Sobolev says Yulia Tymoshenko's absolution is a myth and that Ukraine is likely to sign trade pact with Russia, and not the EU. This runs contrary to the several statements President Yanukovych made this week confirming Ukraine's continued desire to conclude an alliance with the EU. Additionaly, EU enlargement commissioner Stefan Fule, after meeting President Viktor Yanukovich, said he expected the former Soviet republic to amend its criminal laws, which the President himself has recently claimed are outdated, to allow Tymoshenko to go free and continue to be active politically.
However, Sobolev who is both a leading member of the democratic opposition coalition against authoritarianism and the Head of the Party of Order and Reforms, which is part of Tymoshenko's political bloc, says that the proposed changes in the criminal code which Yanukovych has promised to make do not concern the Tymoshenko trial whatsoever.
Likewise, he said that opposition leaders have been told that President Yanukovych will be traveling to Moscow next week to meet with Russian leaders, and conclude a CIS trade pact, which he had thus refused to consider, insisting that Ukraine must move closer towards the EU and distance itself from Russia. "The pact will likely be signed for a 30 percent reduction in the price of Russian gas in addition to giving his regime additional protection in the case of a popular uprising in Ukraine against the country's detachment from the EU." Sobolev explained that, "If such a pact is signed, it will mark a complete reversal of policy for Ukraine in terms of international relations. It will mark the end of all democratic development and place Ukraine firmly in the hands of Russia."
Yanukovych has confirmed that he will visit Russia on the 24th, according to his press secretary, but has not been specific as to the reason for the visit.
Russian Prime Minister Vladimir Putin said on Friday Moscow would not force Ukraine to join the trade alliance, but he found it "hard to imagine" Kiev would ever become a member of the European Union. Putin said joining the customs union would be more economically advantageous for Kiev.
"The idea of moving in the other direction is based on politics of an emotional character. If you look at the numbers and the reality, it would be more beneficial to join the customs union," Putin said at an economic forum in Sochi, Russia.
He said Yanukovich's Moscow visit would be an "opportunity to talk and discuss not only as neighbors but as friends."
The US government has not vocally expressed its desire to see Kiev come to agreements with the EU and the democratic administration of Barack Obama, in particular, has made no public demands to Yanukovych. US Secretary of State Hillary Clinton, however, did co-author a private letter to the President, which many EU diplomats believe to have expressed certain concerns about the way in which the case was being conducted. On Friday, however, Barack Obama sent Yanukovych a letter stating that he looked forward to seeing him at a 2012 nuclear anti-proliferation conference in Seoul, and made no mention of the Tymoshenko case or the trade pacts.
###